Best Cave Hotels in Cappadocia with Hot Air Balloon View
The Cappadocia region in Turkey is a unique and enchanting place, famous for its stunning landscapes, cave dwellings, and of course, the breathtaking hot air balloon rides. 
If you're planning a trip to this extraordinary destination, you'll want to find the perfect cave hotel with a hot air balloon view to make your stay unforgettable.
This article will guide you through some of the best cave hotels in Cappadocia, complete with mesmerizing hot air balloon views.
1. Mithra Cave Hotel

4
Located in the heart of Göreme in Cappadocia, the Mithra Cave Hotel boasts an incredible Cappadocia hot air balloon viewpoint. 
The hotel features elegantly designed cave rooms, offering a perfect blend of traditional architecture and modern comforts.
Start your day with a delicious breakfast on the terrace, while you enjoy an unobstructed view of the hot air balloons taking flight.
Ranking on Google reviews: 4.5
2. Cappadocia Cave Rooms 2
Discover the enchanting Cappadocia Cave Rooms Hotel, a remarkable accommodation that embodies the region's rich history and charm.
This hotel is nestled among the stunning fairy chimneys and unique rock formations that have made Cappadocia famous worldwide. With a combination of unparalleled luxury and authenticity, this hotel is sure to make your stay unforgettable.
At the Cappadocia Cave Rooms Hotel, you'll find beautifully designed rooms carved directly into the volcanic rock formations.
Each room features traditional touches, such as handwoven rugs and local artwork, combined with modern amenities like Wi-Fi, en-suite bathrooms, and comfortable beds. The result is a truly authentic and luxurious experience that captures the essence of Cappadocia.
The hotel's prime location offers breathtaking views of the surrounding landscape, including the mesmerizing hot air balloons taking flight.
From the comfort of your room or the hotel's rooftop terrace, you'll have the perfect vantage point to watch these magical balloons take flight, painting the sky with vibrant colors as they drift through the air.
At Cappadocia Cave Rooms Hotel, the delicious breakfast is already included in the price of the hotel room, ensuring a satisfying and hassle-free start to your day in this enchanting location.
Guests can savor a delightful breakfast spread featuring a variety of local and international dishes. Relish the unique ambiance of the natural cave formations as you indulge in freshly baked bread, homemade jams, a selection of cheeses, and traditional Turkish delights, creating an unforgettable start to your day in this magical region.
Ranking on Google reviews: 4.2
3. Doors Of Cappadocia Hotel 4
This luxurious boutique hotel is nestled in the picturesque village of Uçhisar.
The Doors Of Cappadocia Hotel offers guests an unforgettable experience with its beautifully designed cave rooms and suites.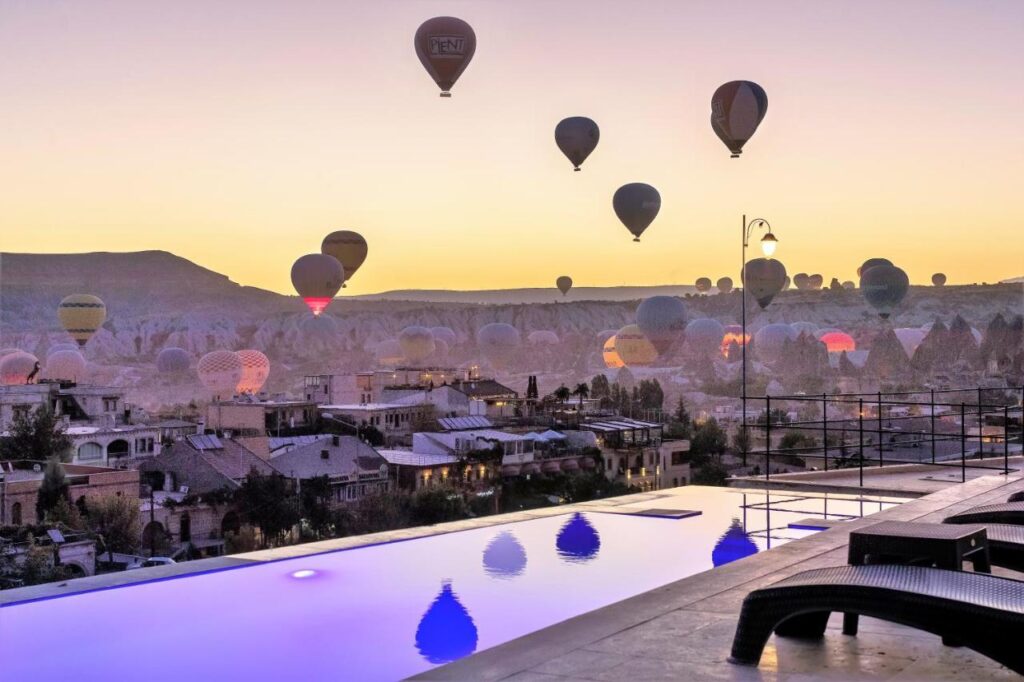 Each room has a private balcony or terrace, providing the perfect vantage point for watching the balloons in Cappadocia soar through the sky at dawn.
Ranking on Google reviews: 4.5
4. Millstone Cave Suites Hotel 4
Situated in the charming town of Uçhisar, the Millstone Cave Suites Hotel is a fantastic option for those seeking a peaceful retreat. 
The hotel features exquisitely decorated cave rooms and suites, many of which offer stunning views of the Cappadocia hot air balloons.
Indulge in a lavish breakfast spread on the rooftop terrace, and marvel at the mesmerizing landscape while the balloons float gracefully overhead.
Ranking on Google reviews: 4.6
5. Jacob's Cave Suites 3
The Jacob's Cave Suites are nestled in the beautiful town of Göreme, surrounded by the enchanting fairy chimneys that characterize the Cappadocia region in Turkey.
This boutique hotel offers a range of cozy cave rooms and suites, each designed to provide a comfortable and memorable stay. 
The hotel's rooftop terrace is an idyllic spot to enjoy breakfast while witnessing the captivating hot air balloons drifting through the sky.
Ranking on Google reviews: 4.9
In Summary
When it comes to finding the best hotel in Cappadocia with a hot air balloon view, you can't go wrong with any of these exceptional options. Each of these cave hotels offers a unique and magnificent experience, ensuring your stay in the captivating Cappadocia region is nothing short of magical.
Don't miss out on the opportunity to make your trip to Cappadocia truly unforgettable.