Çalış Halk Plajı in Fethiye: Your Ultimate Guide
Ah, Fethiye! A gem in the Mugla province, known for its pristine beaches, vibrant marinas, and rich history.
Nestled in the heart of Fethiye lies Çalış Halk Plajı, a testament to the town's commitment to providing accessible and sustainable beach experiences for both locals and tourists.
This public beach, spanning a generous 10 hectares, is a recent initiative by the Municipality of Fethiye. 
Recognizing the need for an affordable and expansive beach area, the municipality transformed a plot leased from the Ministry of Environment and Urbanization into this coastal haven.
Constructed primarily using wooden materials that resonate with the natural ambiance of Çalış, the beach retains an authentic and rustic charm.
This design choice not only complements the surrounding environment but also ensures that the beach blends seamlessly with the iconic Calis landscape.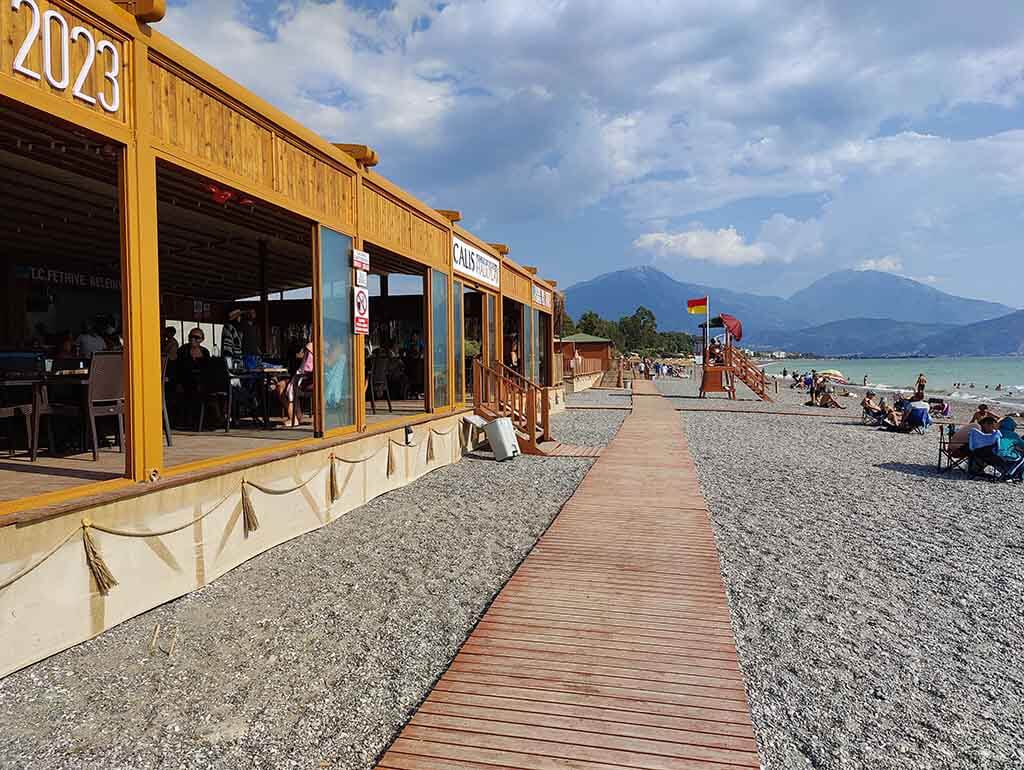 In recent times, Turkey has grappled with the challenges of rising inflation, leading to escalating prices across various sectors.
This economic strain has been particularly felt in popular tourist destinations like Fethiye, where private businesses at bathing spots have significantly increased their prices. 
Such hikes have made beach outings a luxury for many. In this backdrop, Çalış Halk Plajı emerges as a breath of fresh air. 
Its establishment is a timely response to the community's growing need for affordable recreational spaces, especially in a region where the beach culture is deeply ingrained in everyday life.
Location and How to Get There
Situated a stone's throw away from the bustling heart of Fethiye, Çalış Halk Plajı offers both accessibility and a serene escape. 
Its proximity to the city center makes it a favored destination for both locals and tourists alike.
By Dolmuş (Minibus)
For those looking for a quick and budget-friendly option, the dolmuş, a local minibus service, is a top choice.
Departing regularly from the city center, it offers a direct route to Çalış Halk Plajı. 
The fare for a bus ticket is 14 Turkish Lira if you opt to pay via credit card (telephone), but if you're paying with cash, it's slightly higher at 17 Turkish Lira.
By Taxi
If you're in a hurry or prefer a more private mode of transportation, taxis are readily available throughout Fethiye. 
A taxi ride to Çalış Halk Plajı from the city center will cost you around 150 Turkish Lira. Please note that taxis only accept cash payments.
Driving
For those who love the freedom of driving, you'll be pleased to know that Çalış Halk Plajı has ample parking spaces in its vicinity. 
So, if you're renting a car or driving your own, you won't have to worry about finding a spot to park.
ENTRY FEE on Çalış Halk Plajı
Good news for beach lovers! Access to Çalış Halk Plajı is entirely free.
That's right, you can soak up the sun, take a dip in the azure waters, and enjoy the serene ambiance without spending a dime on entry.
Refreshments and Snacks
While the entrance might be free, you might want to indulge in some refreshments during your visit. Here's a quick rundown of the prices:
Tea: A warm cup of tea, perfect for sipping as you gaze at the horizon, is priced at a mere 3 lira.

Toast: Feeling a bit peckish? Grab a toast ranging between 30-40 lira.

Cold Drinks: Whether you're in the mood for a soda or a chilled juice, cold beverages are available from 20 to 30 lira.
Sun Loungers
For those who prefer a bit of comfort while basking in the sun, sun loungers are available for rent.
At only 25 TL, you can lounge in style and comfort, ensuring your beach experience is as relaxing as possible.
Activities and Attractions at Çalış Halk Plajı
WATER SPORTS
From jet-skiing to parasailing, the beach offers a plethora of water sports for the adrenaline junkies.
Tips for Visiting Çalış Halk Plajı
Sunset Views: The beach is west-facing, making it a prime spot for breathtaking sunsets.

Events: Keep an eye out for special events and parties, especially during the summer months.

Stay Hydrated: With all the sun and fun, it's essential to drink plenty of water.
HOW LONG SHOULD I SPEND AT Çalış Halk Plajı?
While you can easily spend an entire day here, a good 4-6 hours should give you ample time to soak in the sun, enjoy the water, and grab a bite.
Conclusion
Çalış Halk Plajı in Fethiye stands out as more than just a beach; it's a destination that embodies accessibility, affordability, and the sheer beauty of the Turkish coastline.
Its proximity to the city center ensures that visitors can easily reach this coastal haven, whether by dolmuş, taxi, or personal vehicle. 
The free entrance is a testament to Fethiye's commitment to providing an inclusive beach experience for all.
And while the entrance doesn't cost a penny, the beach offers a range of reasonably priced refreshments and amenities, ensuring that visitors can relax and indulge without feeling the pinch. 
From sipping tea while watching the waves to lounging comfortably on sunbeds, Çalış Halk Plajı promises a memorable experience. So, whether you're a local or a tourist, make sure to carve out some time to visit this gem in Fethiye.
And if you're keen on exploring more of what Fethiye has to offer, there's a world of experiences waiting for you. Dive in!