Ölüdeniz Beach: Discover the Blue Lagoon's Attractions and Activities
Oludeniz Beach is one of the most famous beaches in Fethiye, Turkey.
Known for its sparkling, crystal clear waters and stunning blue lagoon, it's the perfect destination for your next sun-soaked holiday. 
In this post, we'll explore how to get there, what you can expect, and the exciting activities waiting for you at this beautiful beach.
How to Get to Oludeniz Beach from Fethiye
There are several convenient ways to reach Oludeniz Beach from the charming Turkish city of Fethiye:
Bus: The local minibuses (dolmuş) offer a budget-friendly way to travel. They typically cost around 14 TL per person and run every 15 minutes during peak season.

Taxi: A taxi ride can be a little more expensive, ranging from 80-90 TL, but it's faster and more comfortable.

Water taxi: For a more scenic and enjoyable journey, consider taking a water taxi. Prices are around 60 TL per person.
Features of Oludeniz Beach
A Perfect Combination of Sand and Sea
Oludeniz Beach is renowned for its pristine waters and stunning coastal landscape.
The beach's unique combination of sand and pebble surfaces, shallow sea depth, and warm water temperatures make it an ideal destination for beach lovers of all ages.
Length of the Beach
Stretching over 2 km along Turkey's southwestern coast, Oludeniz Beach offers ample space for visitors to relax, sunbathe, and play. 
With its seemingly endless coastline, finding the perfect spot to settle down for the day is a breeze.
Type of Beach Surface
Oludeniz Beach features a diverse surface that consists of both fine sand and small pebbles. 
This blend creates a unique beach experience, with some areas perfect for building sandcastles, while others offer a gentle massage for your feet as you walk along the shore.
Sea Depth
One of the main attractions of Oludeniz Beach is its shallow sea depth near the shore.
With the water gradually getting deeper as you move further from the coast, it's perfect for families with young children or those who prefer a more relaxed swimming experience. 
The shallow waters also create a safer environment for beginner swimmers and those new to various water activities.
Average Water Temperature
The water temperature at Oludeniz Beach is typically warm and inviting, making it perfect for swimming and water sports. 
During the peak summer months of June to September, the average water temperature ranges from 23°C to 27°C (73°F to 81°F).
Even in the shoulder seasons of May and October, the water remains comfortably warm, averaging around 20°C to 22°C (68°F to 72°F).
Amenities Galore
At Oludeniz Beach, visitors can expect an array of amenities that cater to their every need, ensuring a relaxing and enjoyable beach day.
Sun Umbrellas
There are plenty of sun umbrellas available for rent at Oludeniz Beach. You can expect to pay around 100-150 TL for a set, which usually includes an umbrella and two sun loungers.
These provide the perfect respite from the sun, so you can take a break and enjoy the beautiful surroundings in comfort.
Changing Rooms and Toilets
To make your day at the beach even more convenient, Oludeniz Beach offers clean and well-maintained changing rooms and toilets.
These facilities are usually free of charge, allowing you to quickly change into your swimwear or freshen up after a swim.
Snack Bars and Restaurants
For those feeling peckish or looking for a refreshing drink, there is a wide variety of snack bars and restaurants along the beach.
You can enjoy delicious Turkish cuisine, international dishes, and mouth-watering snacks at these establishments. 
Prices vary, but you can generally expect to pay between 150-200 TL for a tasty lunch in a beachside cafe.
For a cold beverage, prices usually range from 20-35 TL, depending on the type of drink.
What to Do on the Beach in Oludeniz
Paragliding: Soar Over the Blue Lagoon
One of the most popular activities at Oludeniz Beach is paragliding.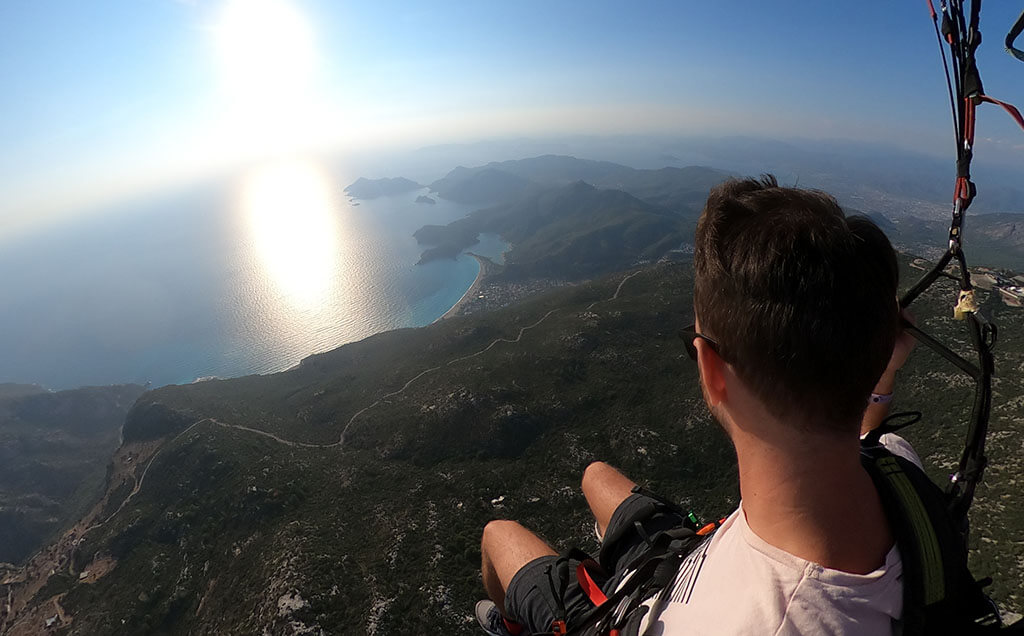 Thrill-seekers can jump from the 1,960-meter-high Babadağ Mountain and enjoy a bird's eye view of the stunning Blue Lagoon. Prices start around 100$ per person.
Private Boat Excursion: Sail the Turquoise Coast
Chartering a private boat is a fantastic way to explore the surrounding coast. Discover hidden coves, swim in secluded bays, and soak up the sun on your own private vessel. Prices vary depending on the size and type of boat.
Water Taxi to Butterfly Valley: Connect with Nature
Hop on a water taxi and head to the nearby Butterfly Valley, a nature reserve famous for its vibrant butterflies and lush vegetation. The journey takes around 20 minutes and costs 25 TL per person.
Nightlife: Dance the Night Away
Oludeniz Beach comes alive at night with a variety of bars, clubs, and cafes. Whether you prefer sipping cocktails by the sea or dancing to live music, there's something for everyone.
Water Sports: Get Your Adrenaline Pumping
Oludeniz Beach offers a variety of water activities to suit different interests and skill levels. Below are more details about some popular options, including their costs, duration, and age restrictions.
Stand-Up Paddleboarding (SUP)
Stand-up paddleboarding is a fun and accessible water activity that allows you to glide across the water while standing on a board and propelling yourself with a paddle. 
Renting a paddleboard at Oludeniz Beach typically costs around 50 TL per hour. There are no specific age restrictions for SUP, but it's generally recommended for children aged 8 and above, as long as they're accompanied by an adult.
Kayaking
Kayaking is another popular water activity at Oludeniz Beach, providing a fantastic way to explore the coastline and take in the beautiful scenery. 
Single kayaks can be rented for approximately 30 TL per hour, while double kayaks cost around 50 TL per hour. Children must be at least 6 years old to participate in kayaking, and those under 12 should be accompanied by an adult.
Jet Skiing
For adrenaline junkies, jet skiing is a thrilling option to satisfy your need for speed. Racing across the azure waters on a powerful jet ski is an exhilarating experience you won't forget. 
The cost for renting a jet ski at Oludeniz Beach is around 200-250 TL for 15 minutes, or 350-400 TL for 30 minutes. Participants must be at least 16 years old to operate a jet ski, and those under 18 require parental consent.
Banana Boat Rides
Gather a group of friends or family and hop on a banana boat for a thrilling ride along the shoreline. A banana boat is an inflatable watercraft towed by a motorboat, and it's perfect for those seeking a fun and exciting group activity. 
Prices for banana boat rides at Oludeniz Beach range from 40-50 TL per person for a 15-minute ride. Children as young as 5 can join the ride but must be accompanied by an adult.
Remember that all water activities should be conducted under the supervision of experienced operators and with appropriate safety gear. 
Lycian way
The Lycian Way (Turkish: Likya Yolu) is a breathtaking and historically rich long-distance hiking trail, situated along the southern coast of Turkey.
It spans approximately 540 kilometers (335 miles), starting from Ölüdeniz in the west and ending in Geyikbayırı in the east.
The trail was officially opened in 1999 and has since gained international recognition as one of the world's top long-distance hiking trails.
A major highlight of the Lycian Way is its close proximity to the stunning beaches of Turkey's Turquoise Coast.
The trail offers numerous opportunities for hikers to take a break from their trek and enjoy the crystal-clear waters and golden sands of the Mediterranean. 
Ölüdeniz Beach, also known as the Blue Lagoon, is one such beach located at the starting point of the trail.
This picturesque beach is renowned for its azure waters and is a popular destination for paragliding, snorkeling, and swimming.
Whether you're in the mood for a quick bite or a leisurely meal, the bars and restaurants at Oludeniz Beach cater to all tastes and budgets. And with their stunning sea views and laid-back atmosphere, you're guaranteed an unforgettable dining experience.
As you traverse the Lycian Way, you'll be captivated by its diverse landscape, which includes verdant forests, rugged mountains, and charming coastal villages.
Along the route, you'll discover countless archaeological sites and ancient ruins, offering insights into the rich history of the Lycian civilization that once thrived in the region.
Key sites include the ancient cities of Xanthos, Letoon, and Patara, as well as the iconic rock-cut tombs at Myra and the impressive amphitheater at Arykanda.
In addition to its historical and natural attractions, the Lycian Way provides an authentic cultural experience, as hikers have the opportunity to interact with locals and sample traditional Turkish cuisine in the small villages along the route.
Accommodation options vary from simple family-run guesthouses to more luxurious hotels, ensuring that there's something to suit every budget and preference.
Babadağ Cable Car (teleferik)
The Babadağ Cable Car, located near the famous Ölüdeniz Beach, is a must-visit attraction for travelers seeking unparalleled views and a unique experience on their visit to Turkey's Turquoise Coast.
This state-of-the-art cable car system transports visitors from the base of Babadağ Mountain to various levels, allowing them to take in the mesmerizing vistas of the surrounding landscape, including the stunning Ölüdeniz Beach.
Recently opened and continuously improving, the Babadağ Cable Car is designed to offer a comfortable and thrilling experience for all visitors.
The cable car features several stops along the way, each providing a unique perspective of the region's beauty.
Travelers can also enjoy refreshments at cafes and restaurants situated at various levels of the mountain, making it an ideal spot for both relaxation and exploration.
The journey begins with a ride to the first stop at an altitude of 1,200 meters (3,937 feet), followed by a transfer to the second stop at 1,700 meters (5,577 feet).
For those who wish to venture even higher, a chair lift is available to transport visitors to the next level.
With its stunning coastline, crystal clear waters, and an array of activities, you'll have a vacation to remember. So, pack your bags and get ready to explore this beautiful Turkish gem!
From this point, an easily accessible hiking trail leads to the mountain's peak at 1,900 meters (6,234 feet), revealing a breathtaking 360-degree panoramic view of the region.
The Babadağ Cable Car is not only an excellent way to appreciate the area's natural beauty but also a convenient starting point for adventure sports enthusiasts.
Paragliders, in particular, will find the cable car a valuable asset, as it provides easy access to the renowned Babadağ paragliding launch site.
With a round-trip ticket priced at approximately $9 per person, the Babadağ Cable Car offers an unforgettable and affordable experience for travelers of all ages.
Its proximity to Ölüdeniz Beach makes it a convenient attraction to include in your itinerary, whether you're planning a day of relaxation by the sea or an adrenaline-filled adventure in the skies above the Turquoise Coast.
In Conclusion
Oludeniz Beach is the perfect destination for a relaxing, fun-filled holiday. 
Boasting a breathtaking coastal landscape, pristine waters, and a variety of adventures, this will be a holiday you won't forget.
So, prepare your luggage and brace yourself to discover the captivating beauty of this Turkish treasure!
Ölüdeniz is approximately 60 kilometers (37 miles) from Dalaman Airport in Turkey. The driving distance may vary slightly depending on the specific route taken, but typically, it takes around 1 to 1.5 hours to drive from Dalaman Airport to Ölüdeniz.
Ölüdeniz is located in the southwestern part of Turkey, within the Fethiye district of the Muğla Province. This region is part of the Turquoise Coast and is well known for its stunning beaches, crystal clear waters, and natural beauty. Ölüdeniz is particularly famous for its blue lagoon, which is a popular destination for tourists.what part of turkey is oludeniz?
Ölüdeniz is approximately 12 kilometers (about 8 miles) from Fethiye, Turkey. The driving distance between the two locations is around 15-20 minutes, depending on traffic and the specific route taken.