Unearthing the Magic of Dalaman: The Ultimate Guide
Nestled in the heart of Turkey's stunning Turquoise Coast, Dalaman is an alluring destination offering a medley of history, culture, and natural beauty. 
Here's your comprehensive guide to things to do in Dalaman, revealing why this hidden gem should be next on your travel itinerary.
Dalaman is an enchanting haven in southwestern Turkey that seamlessly blends the ancient with the contemporary. 
With its sun-drenched beaches, vibrant markets, and rich historical sites, there's never a shortage of things to do in Dalaman.
Whether you're traveling solo or looking for things to do in Dalaman for families, there's something for everyone.
Top Attractions in Dalaman
A journey to Dalaman is incomplete without immersing in its diverse attractions. Some notable ones include:
Blue Lagoon
Among Dalaman's top attractions is the Blue Lagoon at Ölüdeniz Beach in Fethiye, Turkey. Famous for its sparkling waters and stunning coastal landscape, it's a beach lover's paradise.
Easy to reach from Fethiye via bus, taxi, or water taxi, the beach offers a unique blend of sand and pebbles, warm water, and a shallow sea depth ideal for families and beginner swimmers.
The beach stretches over 2 km, providing ample space for sun-soaked relaxation. Plus, the variety of amenities – including sun umbrellas, changing rooms, and beachside cafes – ensures a comfortable, enjoyable experience.
Kayaköy Ghost Town
Kayaköy, often referred to as the Ghost Village, is an intriguing relic just a short drive from Fethiye.
Once a bustling Greek village known as Karmylassos, the site stands abandoned since the Greek-Turkish population exchange in 1923.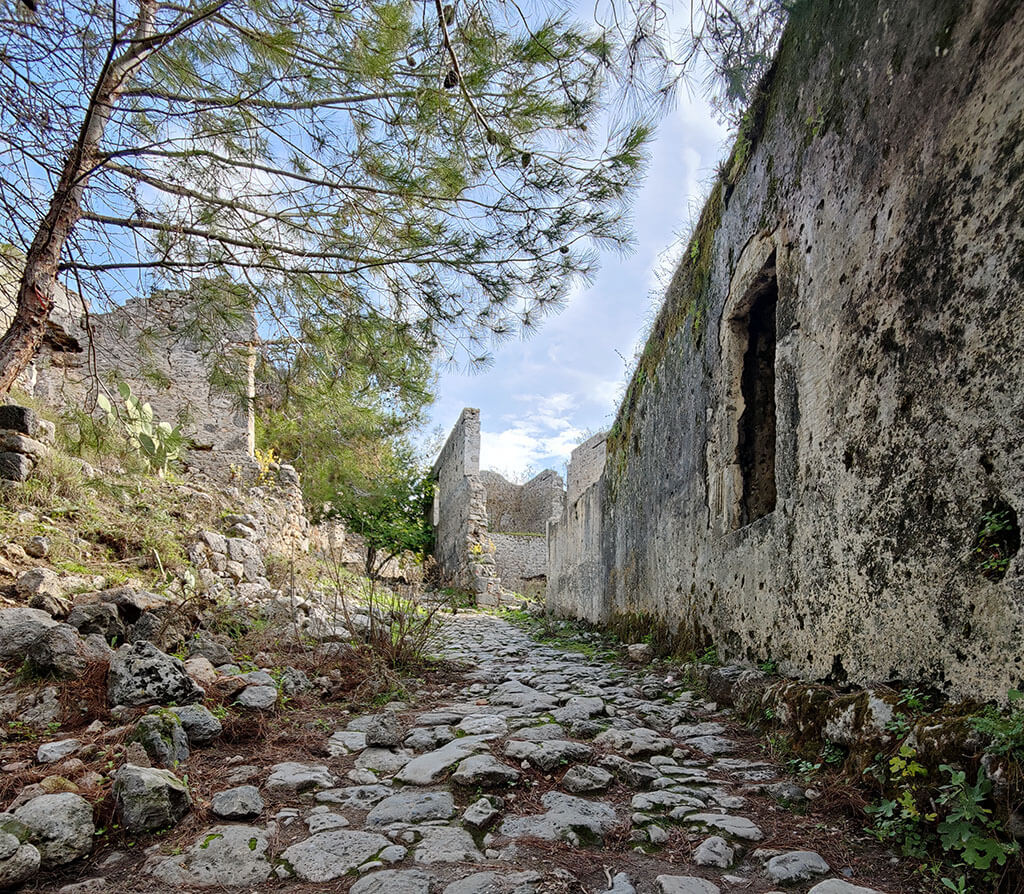 This former Greek Orthodox Church hub now offers visitors an eerie, yet fascinating look into the past, with over 500 derelict houses, churches, and structures scattered across the landscape. 
Nestled among olive groves, Kayaköy offers scenic hikes and captivating views of the surrounding countryside.
Exploring the ruins or taking a guided tour offers a unique way to delve into the village's history.
Dalyan River
Immerse yourself in the scenic splendor and rich history of Dalyan with a River Cruise.
Winding through lush landscapes, the cruise offers unparalleled views of the ancient city of Kaunos, the impressive Lycian Rock Tombs, and serene Köyceğiz Lake. 
The meandering river carries the whispers of history, while your guide imparts captivating stories of the region's past and culture. 
Cruises operate year-round, but for optimum comfort, opt for the warm summer months. Remember to bring sun protection, comfortable attire, and a camera to capture this unique Turkish escapade.
Mud Baths in Dalyan
Hot Springs and Mud Baths, a key attraction in Dalyan. Famed for their mineral-rich waters believed to possess healing qualities, the site attracts wellness enthusiasts globally.
The adventure begins with a short boat ride from Dalyan, through a serene landscape. 
Unwind in the warm waters of the hot springs, or apply the therapeutic mud all over your body for a rejuvenating spa-like experience. 
Open throughout the year, the best time to visit is during the cooler months, offering a tranquil respite from the cold. This unique, health-boosting activity is sure to be a highlight of your Dalaman journey.
The Lycian Rock Tombs
The Lycian Rock Tombs, an architectural marvel from the 4th century BC, are an essential stop in Dalyan. 
Perched high on a cliff and accessible via a scenic boat ride across the Dalyan River or a challenging hike from the town center, these tombs showcase the engineering genius of the ancient Lycians. 
While the climb may be strenuous, the panoramic views at the top are a worthy reward. To avoid the midday heat, plan your visit early morning or late afternoon. Remember to pack comfortable footwear, water, and sun protection for a seamless exploration experience.
Kaunos
In the picturesque southwest of Turkey, the ancient city of Kaunos awaits exploration. Brimming with history dating back to the 9th century BC, this site offers impressive archaeological finds and vistas of the lush surrounding landscape. 
Reaching Kaunos from Dalyan is an adventure, with a scenic boat journey along the wildlife-rich Dalyan River for a fare of just 20 TL per person. 
From the boat dock, a 15-minute walk through a naturally enchanting landscape leads you to the entrance.
For a mere 25 Turkish Liras, or free for museum card holders and those over 65, you can delve into the city's historical remnants.
Saklikent Gorge
Discover Saklikent Gorge, a hidden wonder nestled within Turkey's Taurus Mountains.
This awe-inspiring national park is home to Turkey's longest and deepest canyon, a marvel formed millions of years ago by water erosion. 
Offering a blend of history and adventure, it was discovered according to local lore, by a shepherd in search of a missing goat. 
Officially designated a national park in 1996, Saklikent spans 12,390 hectares and stretches 18 kilometers in length, reaching heights of 200 meters.
Accessible from Fethiye and Kas, this captivating destination promises an unforgettable experience amid the beauty of nature's grandeur.
Activities to Do in Dalaman
From adrenaline-pumping adventures to tranquil escapes, Dalaman is full of riveting activities.
Paragliding 
A visit to Oludeniz isn't complete without experiencing its famed paragliding adventures.
With the towering Babadağ Mountain as the launch point, the beautiful coastal town serves as an ideal location for this adrenaline-charged activity.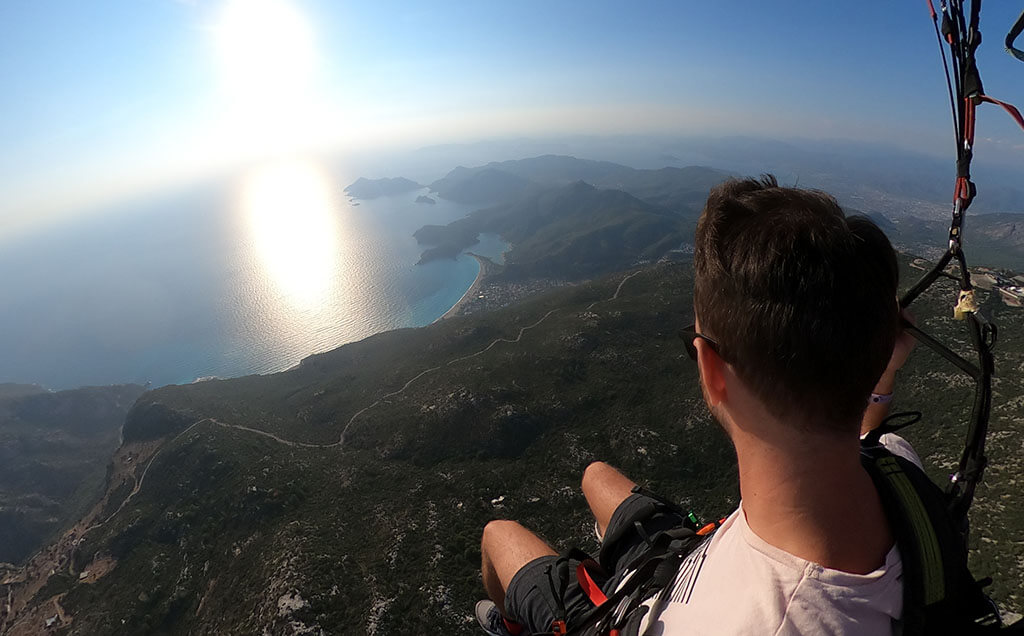 The best time to embark on this journey depends on personal preferences: opt for a sunrise flight for cooler air and scenic dawn views, noon for vibrant photo ops, or a sunset flight for an enchanting experience. 
Tandem paragliding for beginners costs $110, while a more extended thermal flight is $155, and exhilarating acrobatic flights are $165. Own gear prices start from $1,500 for solo and $3,500 for tandem.
Shopping
Dalaman Market is a vibrant shopping hub, immersing visitors in local culture and offering a plethora of unique finds.
Must-buys include textiles, ceramics, spices, and handcrafted souvenirs from local artisans. 
To optimize your visit, arrive early and bargain for the best deals. Weekend visits can be bustling, so consider a weekday visit for a more relaxed atmosphere.
Whether you're seeking mementos or gifts, Dalaman Market promises a colorful and engaging shopping experience.
Water sports
Water sports in Dalaman offer a dynamic blend of thrill and beauty. Scuba diving reveals diverse marine life and intriguing underwater landscapes, with options for beginners and advanced divers. 
Jet skiing is a fun way to navigate the region's stunning bays and beaches, with guided tours and independent rentals available. Consistent wind conditions make windsurfing and kitesurfing popular, with schools offering lessons and rentals. 
The Dalaman River provides a thrilling white-water rafting experience. Sailing and yacht tours give you an immersive exploration of the Turquoise Coast, with private charters, group tours, and themed excursions. Most activities include swimming, snorkeling, and relaxation opportunities.
Best Resorts in Dalaman
Dalaman Airport Lykia Thermal & Spa Hotel
Dalaman Airport Lykia Thermal & Spa Hotel, located in Dalaman city center and near the boardwalk, provides easy access to local attractions and natural beauty. Close to Sarigerme Beach and Iztuzu Beach, it offers an idyllic setting for relaxation.
For those seeking more adventure, Gocek Marina is nearby, while the Dalyan Special Environmental Protection Area and Yuvarlak Cay offer unique exploration opportunities. 
With scuba diving, rafting, and boat tours close to the property, this hotel promises a balance of relaxation and adventure, making it one of the best resorts in Dalaman.
Hotel Caktug
Hotel Caktug, nestled in Dalaman, is a charming resort known for its proximity to natural attractions such as Dalyan Special Environmental Protection Area and Kayacık Beach. Mavi Dalis and Dalyan Cami are also nearby for cultural exploration. 
The hotel provides a variety of rooms to accommodate diverse needs: the Standard Double Room (269 sq ft), Triple Room (322 sq ft), and Quadruple Room (376 sq ft), each equipped with free Wi-Fi, free breakfast, and self-parking. 
Starting at $39 per night, Hotel Caktug offers affordability, comfort, and convenience, making it an excellent choice in Dalaman.
Best Beaches in Dalaman
Dalaman's coastline is dotted with stunning beaches.
Ölüdeniz: Known for its Blue Lagoon, it's one of the most photographed beaches in the Mediterranean.

Iztuzu Beach

: A splendid sandy stretch famous for being a breeding ground for loggerhead turtles.

Kaputaş Beach

: An idyllic bay nestled between cliffs, offering mesmerizing views of the turquoise sea.
Find more information on Dalaman's breathtaking beaches here.
Local Cuisine in Dalaman
One cannot leave Dalaman without experiencing its vibrant culinary scene.
From the rich, aromatic Turkish coffee to the delicious Gözleme (a traditional stuffed pancake), the food here is a delightful treat to the senses. Don't forget to try the fresh seafood in the local markets.
Best Time to Visit Dalaman
The best time to visit Dalaman is during the spring (April to June) and autumn (September to November) when the weather is pleasantly warm. 
How to get to Dalaman
Reaching Dalaman is relatively straightforward, with Dalaman Airport (DLM) located just 6.6 km from the city center. The most common modes of transport include dolmuş (local minibuses), taxis, or rental cars.
Each offers different levels of flexibility and cost. Travel times to the city center can range from 10 to 20 minutes, depending on traffic and your chosen method of transportation.
Thus, accessibility and convenience make Dalaman an ideal destination for both domestic and international travelers.
Conclusion
From captivating historical sites and exciting activities to its delectable cuisine and stunning natural landscapes, Dalaman truly has something for everyone. It's an ideal destination for those seeking a mixture of relaxation and adventure.
Whether you're looking for things to do in Dalaman for families or planning a romantic getaway, this guide should serve as your starting point for discovering the many Dalaman attractions awaiting you.
Remember, the beauty of traveling lies in exploring the unknown and creating unforgettable memories. Happy travels!
Top attractions in Dalaman include the Blue Lagoon, Kayaköy Ghost Town, Dalyan River, Mud Baths in Dalyan, Lycian Rock Tombs, ancient city of Kaunos, and Saklikent Gorge.
Dalaman offers activities like paragliding, shopping at Dalaman Market, water sports, and exploring the Turquoise Coast through sailing and yacht tours.
Some recommended resorts in Dalaman are the Dalaman Airport Lykia Thermal & Spa Hotel and Hotel Caktug, both offering access to local attractions.
Stunning beaches in Dalaman include Ölüdeniz, known for its Blue Lagoon, Iztuzu Beach, and Kaputaş Beach.
The best time to visit Dalaman is during spring (April-June) and autumn (September-November). Dalaman Airport is the easiest way to reach the city, with local minibuses, taxis, or rental cars available for transport.