Discover the Charm of Kaş in Turkey: A Complete Guide
Welcome to the beautiful town of Kaş in Turkey, a hidden gem nestled along the stunning Turquoise Coast. 
In this guide, we'll explore the rich history of Kaş, its vibrant culture, and the abundance of exciting activities that await you. So grab your map of Kaş and get ready to dive into this coastal paradise.
A Brief History of Kaş
Kaş has a long and storied past, dating back to the ancient Lycian civilization.
Originally known as Habesos or Antiphellos, Kaş served as a prominent harbor town and trading center. 
Over the centuries, it has been influenced by various cultures, such as the Persians, Greeks, and Romans, which have all left their mark on this enchanting town.
Getting to Kaş: Travel and Transportation
When planning your holidays in Kaş, you'll first need to determine how to get there. The nearest airport to Kaş is Dalaman Airport (DLM), approximately 150 km away. Antalya Airport serves as the second closest and a convenient alternative for travelers. 
Located approximately 168 kilometers from Kaş, Antalya Airport offers a variety of transportation options to reach the town.
Visitors can opt for car rentals, shuttle services, or intercity buses to make the journey, which typically takes around 3 to 4 hours, depending on the chosen mode of transport.
You can also travel to Kaş by bus from major cities like Istanbul, Ankara. The bus journey offers a more affordable option and allows you to witness the stunning scenery of the Turkish countryside.

Making your way from the vibrant coastal town of Fethiye to the idyllic haven of Kaş is a delightful journey, offering travelers the opportunity to explore more of Turkey's mesmerizing Turquoise Coast. Two popular transportation options for this route include taking the bus or renting a car. 
Regular intercity buses operated by reputable companies like Kamil Koç and Pamukkale Turizm connect Fethiye to Kaş, with travel times ranging from 2 to 3 hours.
Bus journeys provide a comfortable, cost-effective way to enjoy the scenic views and local atmosphere along the coastal road. 
Alternatively, car rentals offer more flexibility and freedom to explore the area at your own pace.
Renting a car from one of the numerous car rental agencies in Fethiye allows you to discover hidden gems and stop at picturesque viewpoints as you drive along the stunning 150-kilometer stretch to Kaş. 
Top Things to Do in Kaş: Unforgettable Experiences
There's no shortage of things to do in Kaş. From historical sites to thrilling outdoor adventures, this coastal town has something for everyone. Here are some must-visit attractions and activities during your stay:
Explore the Ancient Amphitheater
This well-preserved amphitheater is a testament to Kaş's rich history.
Built during the Hellenistic period, it offers a fascinating glimpse into the town's past and provides stunning views of the surrounding area.
Visit Meis Island
Just a short boat ride away from Kaş, the Greek island of Meis (also known as Kastellorizo) is a lovely day trip destination.
Explore the charming harbor, colorful houses, and crystal-clear waters that make this island so captivating.
Kaputaş Beach
No visit to Kaş would be complete without a trip to the stunning Kaputaş Beach.
Located just 20 km west of the town, this hidden gem is one of the most picturesque spots along the Turquoise Coast.
Nestled between dramatic cliffs, the beach boasts powdery golden sand and crystal-clear waters that shimmer in varying shades of blue.
It's the perfect spot to relax, sunbathe, and take a refreshing dip in the Mediterranean Sea. 
To reach Kaputaş Beach, you can rent a car or take a local minibus (dolmuş) from Kaş. Keep in mind that there's a steep staircase leading down to the beach, so be prepared for a bit of a climb.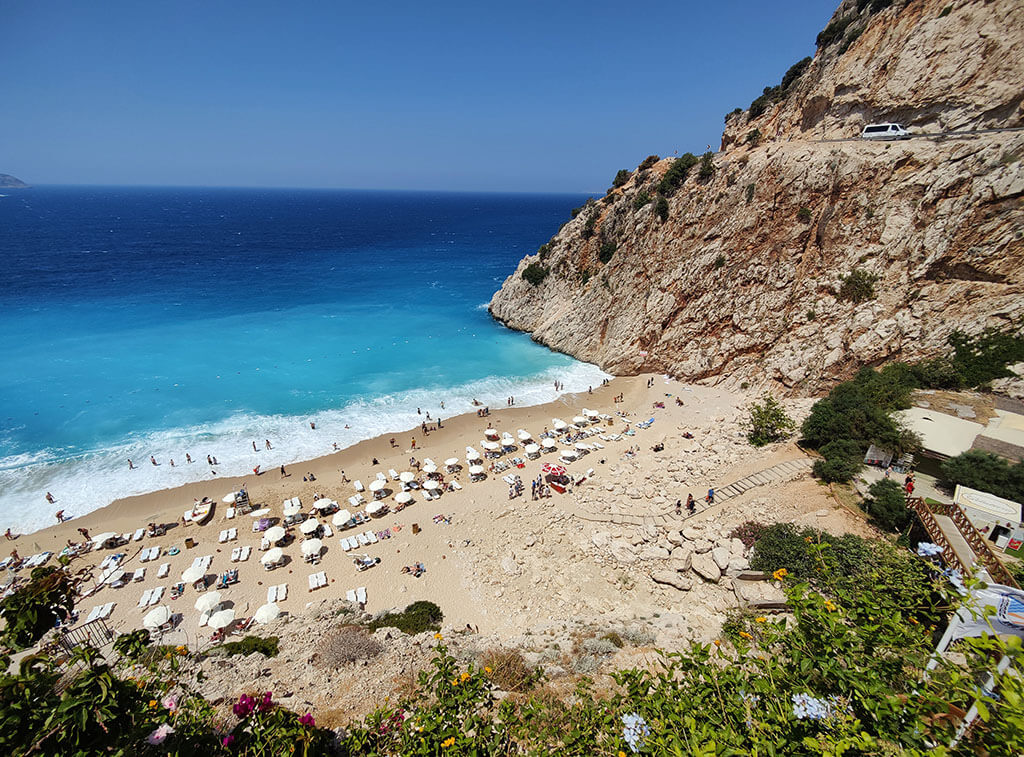 Once you arrive, you'll find basic amenities such as sun loungers, umbrellas, and a small snack bar for refreshments. 
For a truly unforgettable experience, consider visiting Kaputaş Beach at sunset. The golden hues of the setting sun against the azure waters create a magical atmosphere that will take your breath away. 
As you plan your trip to Kaş, don't miss the opportunity to spend a day (or more) at the enchanting Kaputaş Beach.
With its stunning natural beauty and serene ambiance, it's a must-visit destination that perfectly encapsulates the allure of Turkey's Turquoise Coast.
Canoe Over the Ancient City of Kekova
For a unique adventure, take a canoe tour over the sunken city of Kekova.
Paddle through the clear waters and witness the remains of ancient buildings, now submerged below the surface.
Stroll through the Streets of Kaş
Get lost in the narrow, winding streets of Kaş, lined with boutique shops, lively cafes, and vibrant street art. Don't forget to indulge in some shopping for souvenirs and local crafts.
One of Kaş's most iconic landmarks, the charming lighthouse standing sentinel in the bay, adds a touch of magic to the town's already enchanting seascape.
As a beacon for sailors and a picturesque sight for visitors, the lighthouse has become an emblem of Kaş's nautical heritage. 
Perched on a rocky outcrop, the whitewashed structure boasts a white roof that contrasts beautifully with the shimmering turquoise waters surrounding it.
Although not open to the public for tours, the lighthouse remains a popular subject for photographers and a symbol of the town's enduring connection to the sea. 
Experience Paragliding
Soar above the breathtaking coastline of Kaş with a thrilling paragliding experience.
Enjoy the unparalleled views and the adrenaline rush as you glide through the skies.
Hiking routes
Kaş is located on the Turquoise Coast, which is known for its rugged mountains and scenic coastline, making it a great destination for outdoor enthusiasts.
One popular trail near Kaş is the Lycian Way, a long-distance hiking trail that stretches 540 kilometers (335 miles) along the coast of southwestern Turkey.
The trail passes through the town of Kaş, and there are several sections that you can hike as day trips or multi-day treks.
Another popular trail near Kaş is the Saklikent Gorge Trail, which is a beautiful hike through a narrow canyon that features waterfalls and natural pools.
This trail is located about 50 kilometers (31 miles) from Kaş, but it's worth the trip if you're looking for a unique and scenic hike.
Savor the Flavors: Best Restaurants in Kaş
Kaş is home to an array of delightful restaurants offering both local and international cuisine. Here are a few top picks for your culinary exploration:
Bahçe Balık Restaurant 
This charming seafood restaurant offers a delightful atmosphere and a mouthwatering selection of fresh fish and traditional Turkish dishes.
Ranking on Google reviews: 4.3
Sofra 
For a true taste of local cuisine, visit Sofra. This cozy eatery serves up delicious homemade food, including mezes, kebabs, and vegetarian options.
Ranking on Google reviews: 5.0
Bi Lokma 
If you're craving Italian fare, Bi Lokma is the place to go.
Enjoy their tasty pizza, pasta, and other Mediterranean-inspired dishes in a relaxed, welcoming setting.
Ranking on Google reviews: 4.2
Rest and Relaxation: Best Hotels in Kaş
Whether you're looking for luxury accommodations or a budget-friendly stay, Kaş has plenty of hotels to suit your needs. Here are some top recommendations:
Lukka Exclusive Hotel 4
This boutique hotel boasts a prime seafront location, offering stunning views and elegant, comfortable rooms.
Ranking on Google reviews: 4.7
Hideaway Hotel 3
A charming, family-run establishment, the Hideaway Hotel provides a warm atmosphere and cozy accommodations, perfect for a relaxing stay.
Ranking on Google reviews: 4.8
Erdem City Hotel 2
For those on a budget, the Erdem City Hotel offers clean, comfortable rooms and friendly service, all at an affordable price.
To help you plan your perfect vacation, be sure to check the weather in Kaş and consult FethiyeNow for more information on local attractions and accommodations.
Ranking on Google reviews: 4.6
Conclusion
In conclusion, Kaş is a captivating destination that combines rich history, breathtaking natural beauty, and vibrant culture.
With an abundance of activities to suit every traveler's taste, this enchanting town is sure to leave you with unforgettable memories. 
So pack your bags, check the map of Kaş, and get ready to embark on a remarkable adventure along the Turquoise Coast of Turkey. Happy travels!
Kaş is a small coastal town located in the Antalya Province of southwestern Turkey. It is situated on the Mediterranean coast, specifically on the Teke Peninsula (also known as the Lycian Peninsula), and is a popular tourist destination known for its beautiful beaches, ancient ruins, and vibrant culture.
Kaş is approximately 168 kilometers (about 104 miles) southwest of Antalya, Turkey.
The driving distance between the two locations can vary depending on the specific route taken, but it usually takes around 3 to 4 hours to travel between Kaş and Antalya by car.