Discover Kaputaş Beach: Turkey's Hidden Gem
Welcome to the enchanting world of Kaputas Beach, a breathtaking slice of paradise nestled along the turquoise coast of Turkey. 
This hidden gem is famous for its crystal clear water, pristine sand, and mesmerizing location.
In this blog post, we'll explore how to get to Kaputas Beach, its unique features, and what to do while you're there. So let's dive in and start planning your unforgettable beach holiday!
Getting to Kaputas Beach from Kas and Kalkan
Nestled on the captivating Lycian Coast, Kaputas Beach lies conveniently between the charming towns of Kaş and Kalkan. 
It's situated just 7 km from Kalkan and 20 km from Kaş, making it easily accessible for visitors staying in these towns. Here's a more detailed guide on how to reach this beautiful beach from Kaş and Kalkan:
By Bus from Kaş and Kalkan
The easiest way to reach Kaputas Beach is by taking advantage of the public transport system.
Mini-busses, locally known as "dolmuş," frequently shuttle between Kaş and Kalkan, stopping at the beach along the way. 
These buses provide an affordable and convenient mode of transportation for tourists and locals alike. Simply board the dolmuş at the designated bus stop in either town and enjoy the scenic ride to the beach.
By Car
Kaputas Beach is located directly on the D400 highway, making it an easy destination to reach by rental car.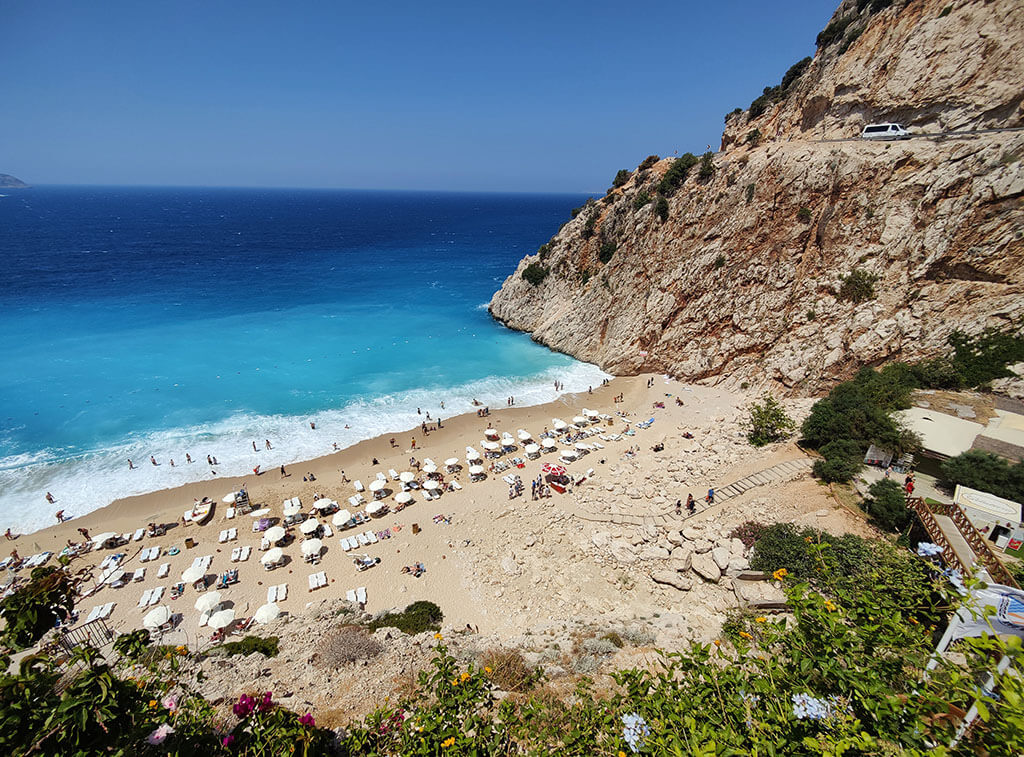 Driving along the coastal road offers an opportunity to soak in the spectacular views of the turquoise coast. 
However, be aware that parking is limited on the side of the road, so you may need to arrive early or be prepared to walk a short distance to the beach.
Airports Near Kaputas Beach
If you're flying into Turkey to explore the beautiful Lycian Coast, there are two airports that offer convenient access to Kaputas Beach:
Dalaman Airport: Located 160 kilometers away, this is the closest airport to Kaputas Beach. You can rent a car or arrange for a private transfer to reach the beach or your accommodation in Kaş or Kalkan.

Antalya Airport: Another option is Antalya Airport, which is approximately 200 kilometers away. From Antalya, you can rent a car or take a bus to Kaş or Kalkan, and then follow the transportation options mentioned above to reach Kaputas Beach.
How to Get to Kaputas Beach from Fethiye
A visit to Kaputas Beach is a must while exploring the gorgeous beaches in Turkey. Here's how to reach this beach paradise from the city:
Drive along the scenic coastal road (approximately 1.5 hours)

Join a guided tour or boat trip from Fethiye

You can get there by bus, the average travel time is 2 hours.
Departure times from Fethiye
6:00
07:30
09:00
09:15
10:15
11:30
12:45
14:00
15:15
16:20
16:30
18:15
20:45
Features of Kaputas Beach
Once an insider's secret, Kaputas Beach has now become a popular destination on the Lycian Coast. 
This stunning bay near Kaş boasts a 150-meter long beach with golden, fine-grained sand, turquoise waters, and dramatic meter-high cliffs that provide a captivating backdrop.
A Scenic Stairway to the Beach
To reach Kaputas Beach, visitors must descend a long, steep staircase with 187 steps from the coastal road. 
Though the climb may be a bit challenging, the breathtaking views and the enchanting beach waiting at the bottom are well worth the effort.
Unspoiled Beauty
Managed by the municipality of Kaş, Kaputas Beach has managed to retain its unspoiled charm, making it an ideal destination for swimming and sunbathing. 
The beach surface transitions from soft sand to small pebbles as you approach the sea, providing a comfortable and enjoyable experience for beachgoers.
Cooler Waters and Unusual Depth
Kaputas Beach's waters are cooler compared to other beaches in the area, due to the presence of spring water that flows into the bay. 
Additionally, the sea depth is quite unusual, reaching 8 to 10 meters deep just a short distance from the shore.
Amenities and Services
During the high season, sunbeds and umbrellas are available for rent, offering visitors a comfortable place to relax and soak up the sun.
Showers, toilets, and changing rooms are also available on site for added convenience. 
To satisfy hunger and thirst, a small snack bar caters to visitors with a selection of refreshments, snacks, and ice-cream.
Popularity Among Locals and Tourists
Kaputas Beach's turquoise paradise attracts both locals and tourists from all over the world. As a result, the beach can get quite crowded, especially during the high season. 
The bay is also a popular stop for cruise ships, making it an ideal destination for boat trips that allow visitors to experience the crystal-clear waters from a different perspective.
Entrance and Tickets to Kaputas Beach
Good news! The entrance to this beautiful beach is free. So all you need to worry about is soaking up the sun and enjoying the mesmerizing sea views.
What to Do on Kaputas Beach
Swimming: Dive into the crystal clear waters and enjoy the refreshing sea

Sunbathing: Soak up the warm Turkish sun on the soft sand

Snorkeling: Explore the vibrant marine life beneath the surface
Best Time to Visit Kaputas Beach: Timing Your Perfect Beach Getaway
Kaputas Beach, with its stunning turquoise waters and golden sands, is a sought-after destination for beach lovers. 
To make the most of your visit, it's essential to plan your trip around the ideal season and weather conditions. Here's a guide to help you determine the best time to visit Kaputas Beach:
Spring (April to June)
Spring is a delightful time to visit Kaputas Beach, as the weather is pleasant and not too hot.
The temperatures range between 20°C to 25°C (68°F to 77°F), providing a comfortable atmosphere for sunbathing and swimming. 
The beach tends to be less crowded during this period, allowing you to enjoy the natural beauty and serenity of the bay.
Summer (July to September)
The summer months are the peak season for visiting Kaputas Beach, with temperatures soaring between 30°C to 35°C (86°F to 95°F).
The hot, sunny weather is perfect for sunbathing, swimming, and engaging in water sports. 
However, the beach can get quite crowded during this period, as both tourists and locals flock to the coast to enjoy the warm sea and vibrant atmosphere.
If you don't mind the crowds and prefer a bustling beach scene, summer is the ideal time to visit Kaputas Beach.
Autumn (October to November)
Autumn is another excellent time to visit Kaputas Beach, as the weather remains warm and sunny, with temperatures ranging from 20°C to 25°C (68°F to 77°F). 
The crowds start to thin out during this period, making it easier to find a spot on the beach and enjoy a more relaxed atmosphere. The sea remains warm, inviting visitors to take a dip and appreciate the crystal-clear waters.
Winter (December to March)
While the winter months may not be the most popular time to visit Kaputas Beach, the mild temperatures ranging from 10°C to 15°C (50°F to 59°F) can still provide a pleasant experience for those who prefer a quieter and more peaceful beach atmosphere.
However, the water may be too cold for swimming, and some amenities, such as sunbeds and umbrellas, may not be available during this period.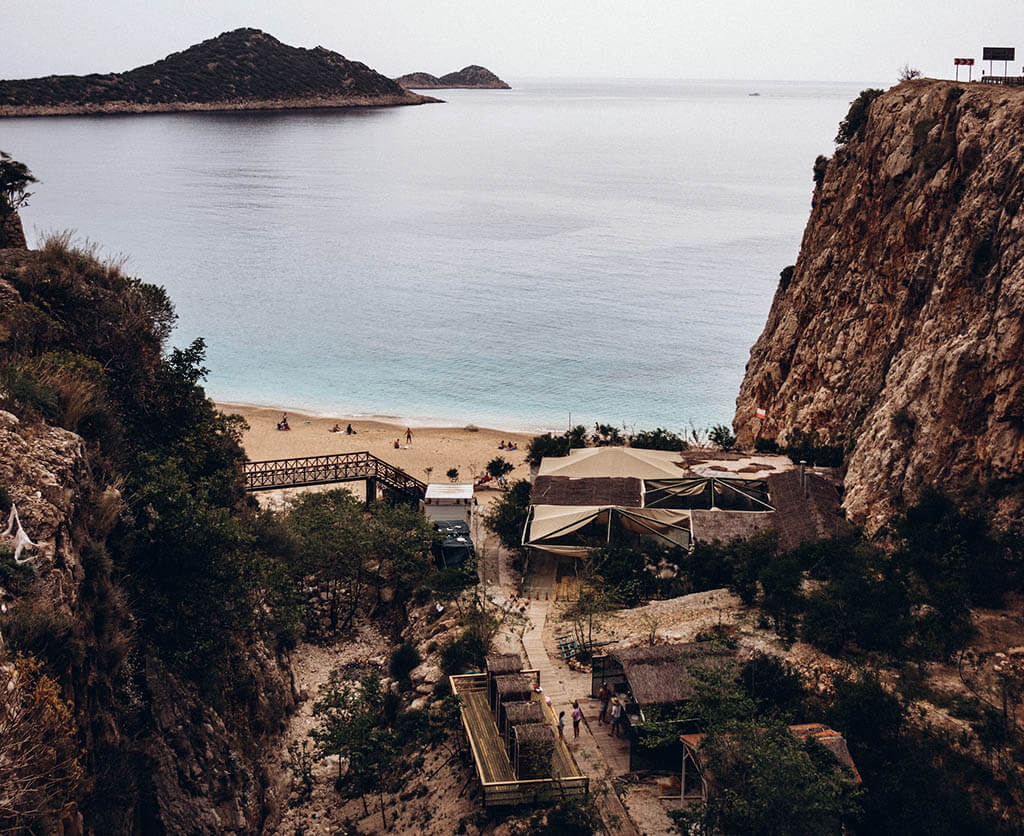 In conclusion, the best time to visit Kaputas Beach depends on your preferences and priorities. If you're seeking a lively and bustling beach scene, the summer months are perfect for you. 
However, if you prefer a more tranquil and serene experience, the spring and autumn seasons offer the ideal balance of comfortable temperatures and fewer crowds.
Regardless of when you visit, Kaputas Beach promises a memorable and picturesque beach getaway on Turkey's stunning Lycian Coast.
Conclusion
Kaputas Beach is undoubtedly one of Turkey's best-kept secrets. With its stunning location, clear waters, and a plethora of activities, it's the perfect destination for your next beach holiday. 
Don't miss the opportunity to visit this enchanting beach while exploring the beautiful coast of Turkey. Happy travels!