Küçük Samanlık Plajı in Fethiye: The Untouched Charm
Imagine lounging on a sun lounger, sipping a refreshing drink from the beach bar, while looking out onto the pristine turquoise waters of the Mediterranean Sea. 
Now, let us introduce you to Kücük Samanlı Beach, a hidden gem in the heart of Fethiye's beautiful peninsula.
It's a unique beach that marries the tranquility of a private beach with the buzz of an exclusive beach club. So, let's dive in, shall we?
Location and How to Get There
Kücük Samanlı Beach is a unique blend of peaceful tranquility and vibrant energy.
Nestled in the Karagozler neighborhood of Fethiye, within the province of Mugla, this hidden gem is situated in the scenic Kücük Samanlı Bay, one of two distinct bays in the Samanlı Bay area. The other bay is called Büyük Samanlı Bay.
Imagine yourself in a quaint, picturesque setting where the murmur of sailing boats, pleasure boats, and yachts in the background adds a soothing rhythm to your beach experience. That's what you get at Kücük Samanlı Beach. 
It's a popular destination not only for local people but also for local tourists, particularly during the summer months.
For a more serene experience, we recommend visiting during May-June or September-October, outside the peak tourist season.
How to Get There?
If you're wondering how to reach this little slice of paradise, there are several options at your disposal:
By Private Vehicle
The beach is just a short drive away from the center of Fethiye, located only 4 kilometers to the west.
If you have access to your private vehicle, you can reach Kücük Samanlı Beach by following the route towards Karagözler and the shipyard, taking the Latvian route.
The journey should take you approximately 10 minutes, depending on traffic.
By Public Transportation (Dolmuş)
Dolmuş is a popular form of public transport in Turkey.
A ride to Kücük Samanlı Beach costs 16 Turkish lira per person.
The mini-buses are comfortable and offer a great way to mingle with the locals.
The frequency of the buses is quite high, making it a reliable mode of transport.
By Boat Tours
If you want to add a touch of adventure to your travel, consider reaching the beach via a boat tour.
The tours depart from the port in the center of Fethiye, offering a delightful way to see the beautiful Turkish coastline.
Plus, it's a great opportunity to spot other fascinating locations for your next visit!
Check out the Fethiye Marina Boat Tours for schedules and prices. Whatever mode of transportation you choose, your journey to Kücük Samanlı Beach is sure to be a part of your memorable holiday experience in Fethiye.
And once you set foot on the beach, the beauty of the crystal clean sea will make you realize that the journey was indeed worth it!
For more details on getting around Fethiye, check out our comprehensive Fethiye District Guide.
Entry Fee on Kücük Samanlı Beach
Whether you're a passionate beach-goer or a first-time visitor, knowing about the entrance fee and other charges can help you plan your day at the beach more efficiently.
For your delightful escape to Kücük Samanlı Beach, the entrance fee is set at 100 Turkish Lira.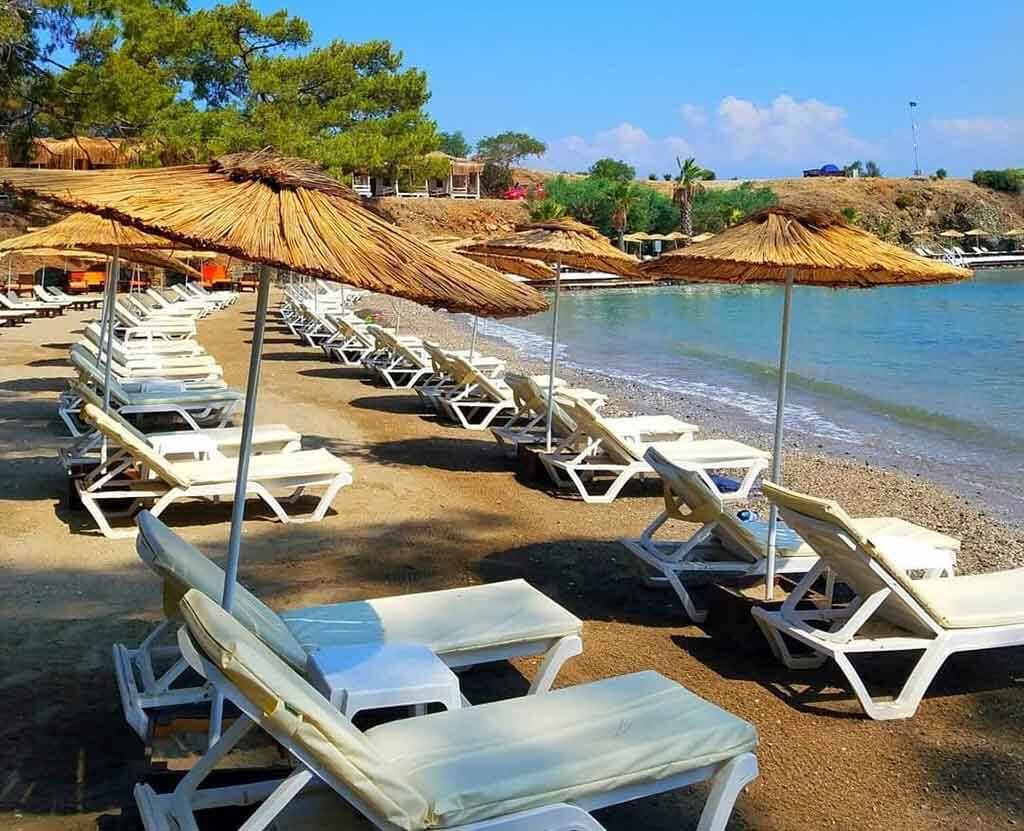 This charge helps maintain the beach's pristine condition, providing every visitor with a clean, safe, and enjoyable beach experience.
Once you've paid your entrance fee, you have a range of options to customize your beach day according to your needs and preferences:
Sunbed: To work on that perfect tan or simply to enjoy the sparkling waters under the Turkish sun, a sunbed is a great option. Priced at 300 Turkish Lira, it provides comfort and convenience for a day-long beach experience.

Umbrella: If you prefer to keep out of direct sunlight, an umbrella can be rented for 150 Turkish Lira. It's a perfect choice for those who want to enjoy the beach while staying cool and protected.

Pavilion (Gazebo): For a more exclusive beach experience, consider renting a pavilion. These are priced at 700 Turkish Lira and offer a private space where you can relax away from the crowd.

Pavilion with Open Top: If you fancy a panoramic view of the stunning bay without compromising your privacy, a pavilion with an open top is an excellent choice. Available at 500 Turkish Lira, it offers the perfect blend of privacy, comfort, and beautiful views.

Table: For the convenience of keeping your belongings or for enjoying a beach picnic, you can rent a table at 100 Turkish Lira.

Chair: If you are more of a sit-back-and-relax kind of beach-goer, renting a chair is an economical choice at just 20 Turkish Lira.
To conclude, while there are costs associated with enjoying Kücük Samanlı Beach, the beauty of the crystal clear sea and the tranquility of the beach make these expenses worthwhile.
Get ready for a day of relaxation, beach games, and making unforgettable memories on the golden sands of Kücük Samanlı Beach.
Facilities at Kücük Samanlı Beach
A day at Kücük Samanlı Beach is made comfortable with a host of facilities. 
From changing facilities to a well-maintained harbor, everything you need is at your fingertips.
If you want to upgrade your experience, rent a sunbed or umbrella for a small fee.
Activities and Attractions at Kücük Samanlı Beach
Kücük Samanlı Beach, nestled in the heart of nature, offers a peaceful getaway from the bustling city life. 
With its calm atmosphere, the bay acts as a soothing remedy for those who seek tranquility.
The comforting sounds of the green trees rustling with the wind and the gentle lapping of the deep blue sea waves can easily wash away any stress and fatigue accumulated over time.
The clear and clean waters of the bay are reminiscent of an aquarium, teeming with a myriad of sea creatures that you can encounter while swimming.
Two piers, in particular, are popular spots for diving into the sea, providing a fun experience, especially for young visitors.
For families with children, the beach offers a small, pebble-strewn shoreline. The water here is shallow and mostly wave-free, making it an ideal playground for children.
Even though the pebbles are typically harmless, having beach shoes for children could be a good idea for added comfort.
The beach encourages visitors to bring their own umbrellas and towels and set up their ideal beach spot.
For those preferring more convenience, there's a facility within the beach premises that provides rental services, including sunbeds, umbrellas, kiosks, tables, and chairs.
Additionally, this facility houses a restaurant, bar, and buffet where you can satiate your hunger and quench your thirst easily.
Not only this, but a dedicated children's playground is available to keep the little ones entertained. Meanwhile, adults can enjoy a serene barbecue experience while basking in the beautiful seaside views.
Cleanliness and maintenance are given top priority at Kücük Samanlı Beach. The showers, toilets, and dressing booths are kept in impeccable condition, ensuring a comfortable visit for all beachgoers.
For those seeking a more active engagement with the sea, the beach also offers pedalo and canoe rentals.
This allows you to explore the bay from a different perspective, making your visit to Kücük Samanlı Beach a memorable one.
For more on the adventurous side of Fethiye, explore our article on Fethiye water sports.
Dining Options at Kücük Samanlı Beach
When it comes to dining at Kücük Samanlı Beach, visitors can expect a variety of options to suit different tastes and preferences.
However, it is essential to note that prices for food and drinks can range from 100 to 700 Turkish Lira, reflecting the quality of the ingredients and the establishment's service.
Among the options available, burgers are a popular choice with prices starting at 160 Turkish Lira.
Crafted with quality ingredients, these burgers offer a hearty meal for those who have worked up an appetite from a day full of beach activities.
Pizza is another staple on the menu. The price is similar to that of the burgers, offering a range of flavors to cater to different palates.
Whether you prefer a classic margarita or a loaded veggie delight, you're bound to find a pizza that suits your taste.
If you're looking for something to quench your thirst or simply want a warm beverage while enjoying the serene beachside view, you can opt for a cup of tea, priced at 15 Turkish Lira.
Tips for Visiting Kücük Samanlı Beach
Before heading to Kücük Samanlı Beach, here are a few tips to ensure a smooth visit:
Best time to visit: To avoid the crowds and enjoy a peaceful day at the beach, we recommend visiting in the morning or late afternoon.

What to bring: Don't forget your sunscreen, towel, and some cash for the entrance fee and other expenses.

Respect the environment: Help us keep the beach clean by disposing of your trash properly.
For more tips on making the most of your visit to Fethiye, read our article on the Best Time to Visit Fethiye.
How Long Should I Spend at Kücük Samanlı Beach?
With so much to enjoy, we recommend spending at least a half day at Kücük Samanlı Beach. 
However, if you truly want to soak up the serene beauty and partake in various activities, a full day is ideal.
Conclusion
Kücük Samanlı Beach in Fethiye is more than just a beach – it's a getaway that combines fun, food, and relaxation in a gorgeous setting.
From the pristine water to the vibrant beach bar, it offers an unforgettable experience for beach-goers.
With the mesmerizing sunset and the warm, inviting atmosphere, it's a place you'll want to revisit time and again.
Experience the untouched charm of Kücük Samanlı Beach on your next trip to Fethiye. It's a destination that guarantees to leave you spellbound.
To discover more about Fethiye's beautiful beaches, check out our Best Beaches in Fethiye guide. Happy sunbathing!
Kücük Samanlı Beach is located in the Karagozler neighborhood of Fethiye, within the province of Mugla, situated in the scenic Kücük Samanlı Bay.
You can reach Kücük Samanlı Beach via private vehicle, public transportation (Dolmuş), or boat tours departing from the port in Fethiye.
The entrance fee for Kücük Samanlı Beach is 100 Turkish Lira. You can also rent sunbeds, umbrellas, pavilions, tables, and chairs at varying costs.
The beach provides changing facilities, a restaurant, bar, buffet, children's playground, and rental services. Activities include swimming, diving, pedalo and canoe rentals.
Dining options at Kücük Samanlı Beach include burgers and pizza, with prices starting at 160 Turkish Lira, and a cup of tea priced at 15 Turkish Lira.