Best Beaches in Fethiye: Sun, Sand, and Fun Await!
Fethiye, a stunning coastal city in Turkey, is renowned for its turquoise waters, ancient ruins, and of course, its pristine beaches. 
In this post, we're taking you on a journey through the best beaches in Fethiye, so get your sunscreen and swimsuit ready!
The Sea and its Features near Fethiye
Fethiye's coastline boasts crystal-clear waters perfect for swimming, snorkeling, and various water sports. 
Thanks to its Mediterranean climate, the sea remains warm throughout the long summer season, making it an ideal destination for beach enthusiasts.
Best Beaches in Fethiye
Let's dive into the top beaches in Fethiye that you simply cannot miss:
1. Çalış Beach 
Famous for its mesmerizing sunsets, Çalış Beach features a 4 km-long sandy stretch dotted with bars, restaurants, and hotels. 
A popular choice for families, the beach also offers water sports and boat trips. Don't forget to check out the best hotels at Çalış and the best restaurants at Çalış for a complete experience.
2. Ölüdeniz Beach & Blue Lagoon (Belcekiz Beach)
Undoubtedly one of the most famous beaches in Turkey, Ölüdeniz Beach is known for its calm, turquoise waters and the stunning Blue Lagoon. 
It's an excellent spot for paragliding, sunbathing, and swimming. A small entrance fee is required to access the Blue Lagoon area.
3. Gemile Beach
This is a secluded pebble beach that offers tranquility and natural beauty in abundance. 
Nestled at the foot of the Taurus Mountains and surrounded by lush forests, Gemile Beach is just a short distance away from the enchanting village of Kayaköy.
Accessible either by boat or on foot via scenic hiking trails, this serene spot is perfect for those looking to escape the crowds.
Once there, you can snorkel in the crystal-clear waters or explore the nearby ancient ruins.
To reach Gemile Beach from Kayaköy by bus, you can take the dolmuş (a local minibus) service that runs between Kayaköy and the beach.
The dolmuş typically departs from the main square in Kayaköy, which is also known as the ghost village due to its abandoned stone houses. 
For those who prefer a more adventurous approach, hiking from Kayaköy to Gemile Beach is a fantastic option.
This scenic trek takes you through the picturesque forest, along ancient stone pathways, and past fascinating historical sites.
The hike is approximately 8 kilometers (4.7 miles) long and takes about 2-3 hours, depending on your pace and the number of stops you make along the way.
4. Kabak Beach
Tucked away in a picturesque valley, Kabak Beach is a hidden gem boasting clear waters, lush pine trees, and a serene atmosphere. 
A popular destination among backpackers, it offers a range of accommodations, including treehouses and campsites.
5. Kidrak Beach
A quieter alternative to Ölüdeniz, Kidrak Beach features crystal-clear waters surrounded by a pine forest. 
With fewer amenities and a more relaxed atmosphere, it's perfect for a peaceful day by the sea.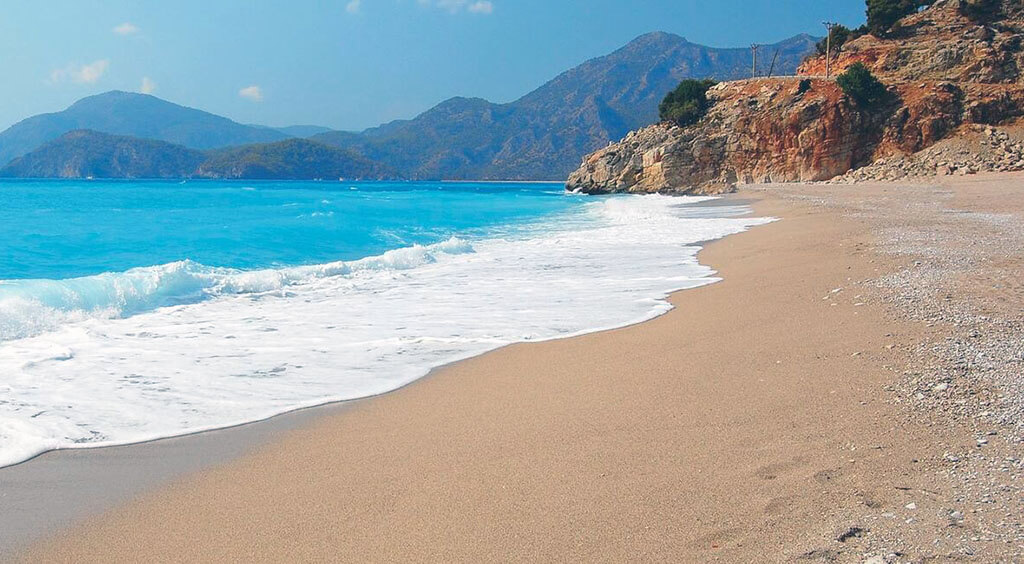 Access to Kidrak Beach is managed by the Kidrak Natural Park, and an entrance fee is required to help maintain the area and provide essential services. The fees are as follows:
On foot: 13 TL per person;

By car: 39 TL per vehicle (regardless of the number of passengers).
These fees are subject to change, so it is advisable to confirm the latest pricing before planning your visit.
This stunning, secluded valley is home to a beautiful beach that can be reached by boat or through a very dangerous hiking trail.
Its crystal-clear waters and vibrant marine life make it a fantastic spot for snorkeling and diving.
7. Şövalye Island
Just a short boat ride from Fethiye, Şövalye Island offers a private, sandy beach and a handful of restaurants and hotels. This car-free island is an idyllic spot for a relaxing escape.
8. Katrancı Beach
Katrancı Beach surrounded by a dense pine forest, this pebble beach offers a calm atmosphere and basic amenities, such as a snack bar and sun loungers.
9. Akmaz Beach
With its shallow waters and sandy shoreline, Akmaz Beach is ideal for families with young children. The beach also features a snack bar and umbrellas for rent.
10. Karaot Beach
A peaceful, pebble beach with crystal clear waters, Karaot Beach is perfect for those seeking a serene and tranquil spot away from the crowds. You'll find a few amenities here, including a snack bar and sun loungers.
Conclusion
In summary, the best beaches in Fethiye cater to everyone, from families and couples to solo travelers and adventure seekers.
Whether you're looking to relax on a sun-drenched beach or explore the underwater wonders of Turkey's coast, Fethiye has you covered.
So, what are you waiting for? Start planning your dream beach vacation to Fethiye now! 
For more information on Fethiye and its surrounding areas, visit  FethiyeNow and explore the plethora of guides, tips, and recommendations available.
And don't forget to share your favorite beach experiences with us in the comments below. Happy sunbathing!
The best beaches in the Fethiye area include Ölüdeniz Beach (Blue Lagoon) with its turquoise waters, Çalış Beach for its sunsets, Kidrak Beach for its natural beauty, and Kabak Beach for a more secluded experience.