Help Beach Club Fethiye: Discover the Jewel of Fethiye
Sun, sand, surf, and sizzling cuisine – if these are the ingredients of your dream vacation, then you're in for a treat at Help Beach & Yacht Club, one of the most exclusive beaches in Fethiye. 
Renowned for its captivating blend of relaxation and adventure, this Turkish beach club is a paradise for travelers seeking a unique seaside experience.
Location and How to Get to Help Beach & Yacht Club
Nestled at the heart of the scenic Fethiye peninsula, Help Beach & Yacht Club is a haven of peace, relaxation, and aquatic adventure. 
A short 13-minute drive from the old town of Fethiye, its strategic location makes it a perfect day out destination for those residing in nearby locations such as Oludeniz, Calis, and other beach resorts.
For those planning to hire a car or take a taxi, you'll find Help Beach at the bottom of a hill via a winding road, complete with free parking just right outside.
If you're staying in Fethiye, the beach club provides a highly convenient option to travel – a free shuttle boat service. Isn't that idyllic? 
You may have seen the announcements on their Facebook page, where they've been building up the excitement around this unique transport option.
You can access this shuttle boat service from Uğur Mumcu Park, identifiable by two oblong orange banners proudly displaying the word 'Help'.
Arriving at Help Beach by Boat
The boat journey to Help Beach promises an adventure of its own. Initially, the boat trips were contingent on having a minimum of six passengers onboard.
However, thanks to the growing popularity of Help Beach, this is rarely a problem.
If you do get the chance to be on the boat, be prepared for a hearty chuckle or two from the friendly boat crew!
The shuttle boat trip to Help Beach is estimated to last about 40 minutes, but as we say in Fethiye, the journey is part of the destination.
You'll get to soak up the beautiful scenery as the coastline unfurls around you. 
As you slowly enter the bay and your destination comes into view, you'll no doubt be charmed by the stunning spectacle that is Help Beach.
The combination of the turquoise sea, sandy beach, and the inviting beach club is a sight that greets you warmly.
Getting to Help Beach and Yacht Club is part of the fun – whether you choose the winding road or the free shuttle boat service, you're in for a scenic ride either way.
So, why wait? Get ready for your journey to this exclusive beach resort and prepare to make some unforgettable memories!
Entry Fee on Help Beach & Yacht Club
Wondering about the cost of spending a day in paradise? Well, the good news is that it's more affordable than you might think.
On our visit to the scenic Help Beach & Yacht Club, the price for an entire day's access, including a sunbed and parasol, was 350 Turkish Lira per person.
Let's break that down: For just 350 Turkish Lira, you get a comfortable sun lounger under the shade of a parasol, perfect for unwinding, basking in the sun, or catching up on that book you've been meaning to read. 
But that's not all. This fee also covers your access to the club's top-notch facilities and the private beach.
Quality is a byword at Help Beach & Yacht Club, from the excellent beach amenities to the top-rated customer service.
Given this, we found the entry price to be very affordable and excellent value for money.
After all, can you really put a price on relaxation, the cool sea breeze, and the feeling of sand between your toes? We don't think so.
Facilities at Help Beach & Yacht Club
At Help Beach & Yacht Club, there's a blend of relaxation, adventure, and indulgence awaiting you.
This world-class beach club features an array of facilities that ensure a delightful beach day experience. Here's a look at what they have to offer:
Luxurious Sun Loungers
Relaxation takes center stage with the sun loungers available at Help Beach.
These aren't your average beach beds. Instead, they offer incredible comfort with their well-padded cushions and accompanying small pillows for headrest. 
Whether you want to laze the day away listening to the lapping waves, engross yourself in a novel, or simply soak in the splendid scenic views, these loungers provide the perfect setting.
Private Beach Access
The beach club offers exclusive access to a private beach.
This is never crowded due to the restricted access, so you can swim and sunbathe at your leisure without the usual hustle and bustle of public beaches. 
While the waters may feel chilly initially, they offer an excellent respite from the scorching Turkish summer sun, particularly between June and August.
Beach Swings
Adding a whimsical touch to the beach club are the wooden swings positioned next to the shore.
These offer a fantastic spot to sit, watch the world go by, or even capture an Instagram-worthy snap against the stunning backdrop of the sea and sky.
Water Sports and Activities
For those seeking a bit of adrenaline amidst their relaxation, Help Beach has a variety of water sports available.
The options range from thrilling activities like parasailing and jet ski rental to more leisurely pursuits like speed boat rides.
They also feature a floating platform, perfect for chilling and sunbathing on.
For more details or to book an activity, you can head to the dock area on the beach. You can read more about water sports options in Fethiye here.
Clean and Convenient Changing Facilities
After a day of sea, sand, and sun, you can freshen up before heading back home.
The beach club provides shower facilities, and you're welcome to bring your own shower gel and shampoo. 
You'll also find changing rooms and toilets in the same area for added convenience.
Events and Entertainment
If you're in the mood for some nighttime fun, Help Beach frequently hosts DJ events with a diverse music spectrum that includes genres like Hip Hop, Latino Dance, Trance, and EDM.
This turns the serene beach club into a vibrant party hub where you can dance the night away under the stars.
Check out the events calendar on the Help Beach website to plan your visit around these events.
With such a wide array of facilities, Help Beach & Yacht Club caters to a multitude of needs and preferences, making it a destination of choice for a memorable beach outing.
Dining Options at Help Beach
Help Beach & Yacht Club offers an enticing array of food and beverage options that perfectly compliment your beach experience.
You can dine and drink while basking in the beautiful view of the shore, creating a gastronomical experience that is as visually stunning as it is satisfying.
Open-Air Restaurant
The Club boasts an open-air restaurant located right across from the bar. With its ample seating, you won't have to worry about waiting for a table. 
The restaurant's unique bohemian-style theme, featuring chairs named after famous actors, adds a touch of charm to the dining atmosphere.
The menu offers an extensive variety of dishes, designed to cater to diverse palates and dietary needs.
You'll find a wide array of options, from pizzas and pastas to sandwiches, wraps, burgers, and traditional Turkish fare. 
While the price point is slightly higher than what you might find in Fethiye Old Town, the quality of the food, the generous portion sizes, and the unmatched beach view make it well worth the cost.
A personal recommendation is the chicken pesto pasta – a truly delicious dish!
Beach Bar
For many visitors, the highlight of Help Beach & Yacht Club is the expansive beach bar.
This space, imbued with the same bohemian decor as the restaurant, offers a stunning vista alongside a variety of seating options, including quirky chairs, comfortable sofas, and even swings.
The bar menu is just as varied as the seating, featuring a range of beverages that includes cocktails, beers, spirits, soft drinks, and freshly squeezed juices.
The prices are reasonably set, particularly in comparison to other beach clubs in Turkey. The cocktails, deliciously crafted and averaging around £10 each, are a must-try!
At-Lounger Service
One standout feature of the dining experience at Help Beach & Yacht Club is the at-lounger service.
If you're lounging under a parasol and craving a drink but don't want to leave your comfortable sun lounger, simply press the button at the top of the parasol. 
A member of the staff will promptly arrive to take your order.
When you're ready to settle your bill, press the 'bill' button, and a staff member will arrive to process your payment.
This convenient service adds an extra level of relaxation and luxury to your beach club experience.
With its variety of quality food, drinks, and seamless service, the dining options at Help Beach & Yacht Club are designed to enhance your beach day, creating a delightful culinary journey amidst the breathtaking seaside backdrop.
Tips for Visiting Help Beach
Help Beach Club provides an idyllic environment for a day of relaxation and fun. Here are some tips and suggestions to help you make the most of your visit:
Duration of Stay
Help Beach Club is an excellent place to unwind, whether in the morning when the weather is typically cooler, or in the afternoon leading up to a breathtaking sunset.
The venue is designed to facilitate extended stays, with the 350 Lira sun lounger/entrance fee allowing you entry for the entire day. 
You can plan your visit according to your preferences: opt for a few hours in the afternoon as we did, or turn it into a full day's outing. Whatever your choice, the experience is sure to be memorable.
Arrive Early
To secure the best sun loungers located by the shore, plan to arrive early in the morning.
This is particularly important during the peak season months of July and August when the beach club gets busy. 
An early arrival not only ensures a prime lounging spot but also allows you to enjoy the tranquil morning ambiance.
Prepare for Pebbled Beach
The beach at Help Beach Club is pebbled, with some sharp rocks and stones underfoot. If you plan to spend time in the water, consider bringing a pair of water shoes to protect your feet and ensure a comfortable experience. 
If you want to know more about what to pack for a Turkish beach vacation, check out this Turkey packing guide.
Choose Your Atmosphere
The beach club offers a flexible and varied atmosphere.
Mornings generally have a laid-back, family-oriented vibe, while the energy picks up as the day progresses.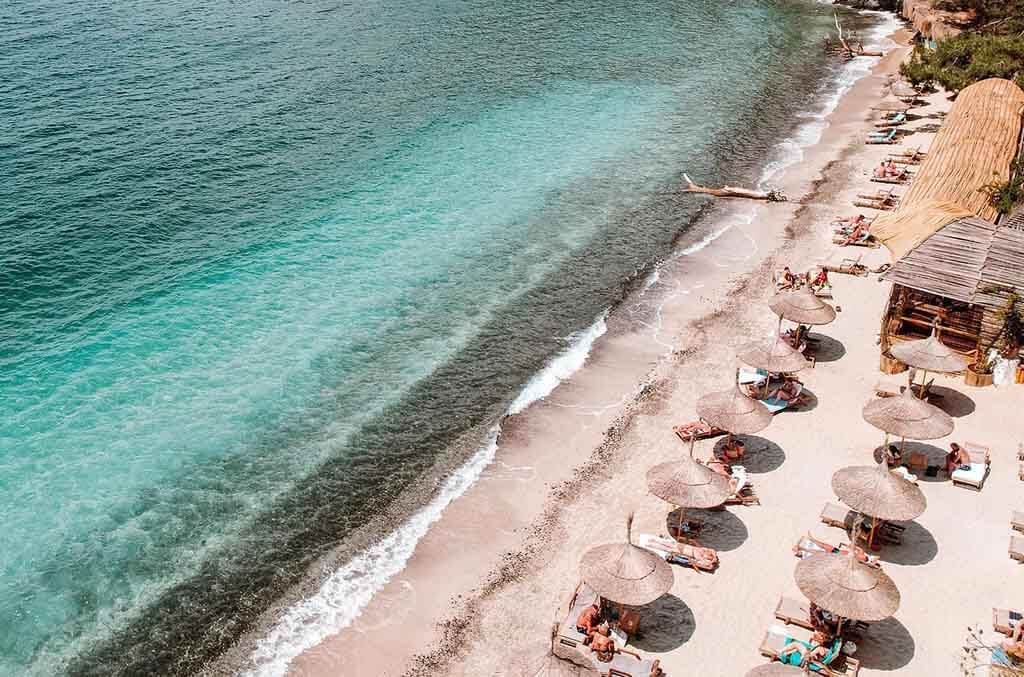 For a more upbeat experience, consider arriving just before sunset, particularly on weekends when the atmosphere is livelier.
Utilize At-Lounger Service
Help Beach Club offers a convenient at-lounger service, enabling you to order food and drinks without leaving your comfortable spot.
Make the most of this service to enhance your relaxing beach day.
Reserve a Cabana for Larger Groups
If you're visiting with a larger group, consider reserving a cabana for the day. It offers a private space for your group to enjoy while still benefiting from all the beach club facilities.
Enjoy the Drinks
If you're a fan of cocktails, Help Beach Club will not disappoint.
Their selection is fantastic, making it worth considering a taxi ride to and from the club if you plan to enjoy some drinks, allowing everyone in your party to partake safely.
Arrive by Boat
If you're renting a boat, you could make a spectacular entrance by docking at the club. Coordinate with your skipper to help you navigate this for a truly unique arrival.
Visiting Help Beach Club promises to be an enjoyable experience. By keeping these tips in mind, you can ensure your visit is as smooth and memorable as possible. Enjoy your day at the beach!
Conclusion
Whether you're in the mood for thrilling water sports, or just to lounge on a sun lounger with a cocktail in hand, Help Beach & Yacht Club is a haven of seaside pleasure. 
This Turkish Beach Club with its sparkling private beach, vibrant beach bar, and lip-smacking cuisine, not to mention the enticing evening atmosphere, guarantees an unforgettable beach experience.
Embark on a journey to Help Beach & Yacht Club and experience the epitome of relaxation and exhilaration, Turkish style!