Butterfly Valley in Turkey: The Place Worth Exploring
Butterfly Valley is a stunning natural paradise, nestled between the vibrant towns of Fethiye and Oludeniz in Turkey. 
Surrounded by lush forests, a pristine beach, and a cascading waterfall, this secluded valley offers a perfect getaway for nature lovers and adventure seekers.
In this article, we'll delve into the history of Butterfly Valley, how to get there, and the best activities to enjoy during your visit.
History of Butterfly Valley
Butterfly Valley, also known as Kelebekler Vadisi in Turkish, is a protected nature reserve that is home to over 100 different species of butterflies, including the rare and endemic Jersey Tiger butterfly. 
The valley's unique microclimate and diverse flora create the perfect habitat for these delicate creatures, attracting researchers and tourists alike.
How to Get to Butterfly Valley
There are a few options to reach this hidden gem:
Shuttle Boat
The most popular and convenient way to travel from Fethiye to Butterfly Valley is by taking a shuttle boat.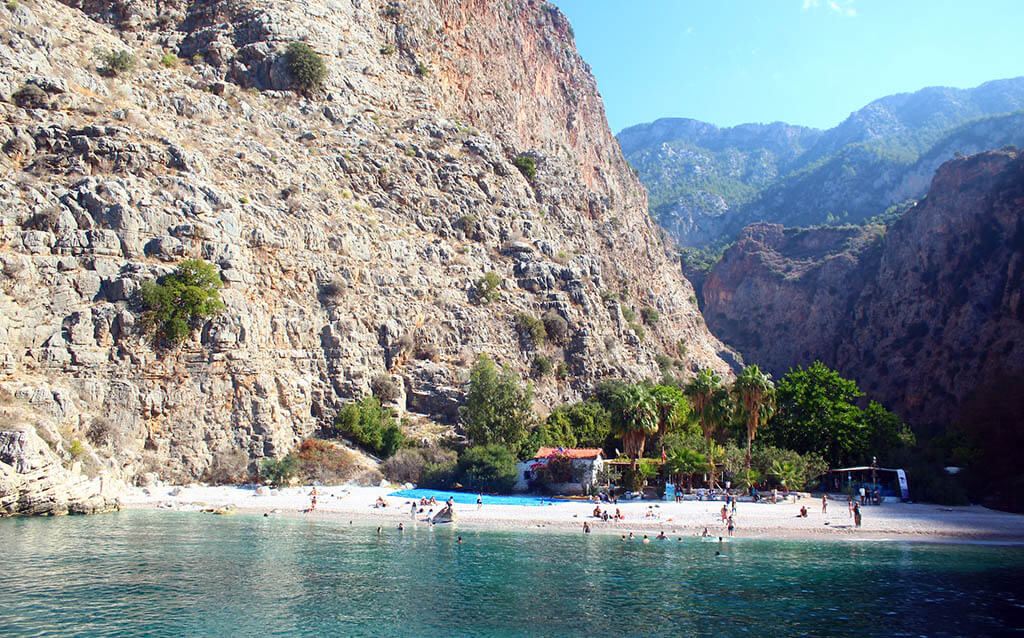 These boats operate from the Oludeniz beach and make several trips throughout the day.
The journey takes approximately 30 minutes and offers spectacular views of the turquoise coast.
Boat Cruise
Another exciting way to reach Butterfly Valley is by booking a boat cruise from Oludeniz or Fethiye.
These cruises not only take you to Butterfly Valley but also include stops at other picturesque destinations along the coast. 
This option allows you to explore the region at a leisurely pace and soak up the stunning views from the comfort of a well-equipped vessel.
Hike to Butterfly Valley from Faralya
For the more adventurous, a hike from the village of Faralya to Butterfly Valley is a rewarding experience.
Faralya, the picturesque village located near Butterfly Valley in Turkey, is easily accessible by bus from the nearby city of Fethiye.
Visitors can take a short ride on a local bus to enjoy the stunning natural beauty of Faralya and its surroundings.
The trail is well-marked and takes about 2 hours to complete. The hike offers breathtaking views of the valley, and the sense of accomplishment when you reach the beach makes the effort worthwhile.
Departure from Fethiye
Weekdays
Weekends
07:00
07:00
11:00
11:00
16:00
16:00
Departure from Faralya
Weekdays
Weekends
8:30
8:30
12:30
12:30
17:30
17:30
Things to Do in Butterfly Valley
Chill Out on the Beach
The beautiful beach at Oludeniz extends into Butterfly Valley, providing a perfect spot to relax, sunbathe, and swim in the crystal-clear waters.
The beach is a mix of pebbles and sand, so bringing water shoes is recommended.
Waterfall
A must-see attraction in Butterfly Valley is the waterfall that cascades from a height of 60 meters.
You can reach the waterfall by following a short, well-trodden path from the beach.
Be prepared to get wet, as the spray from the waterfall creates a refreshing mist.
Search for Butterflies
As the name suggests, the main attraction of the valley is its diverse population of butterflies.
Exploring the lush vegetation and looking for these colorful insects is a truly enchanting experience. 
During the peak season of late April to June, Butterfly Valley in Turkey comes alive with an enchanting display of vibrant butterflies taking flight.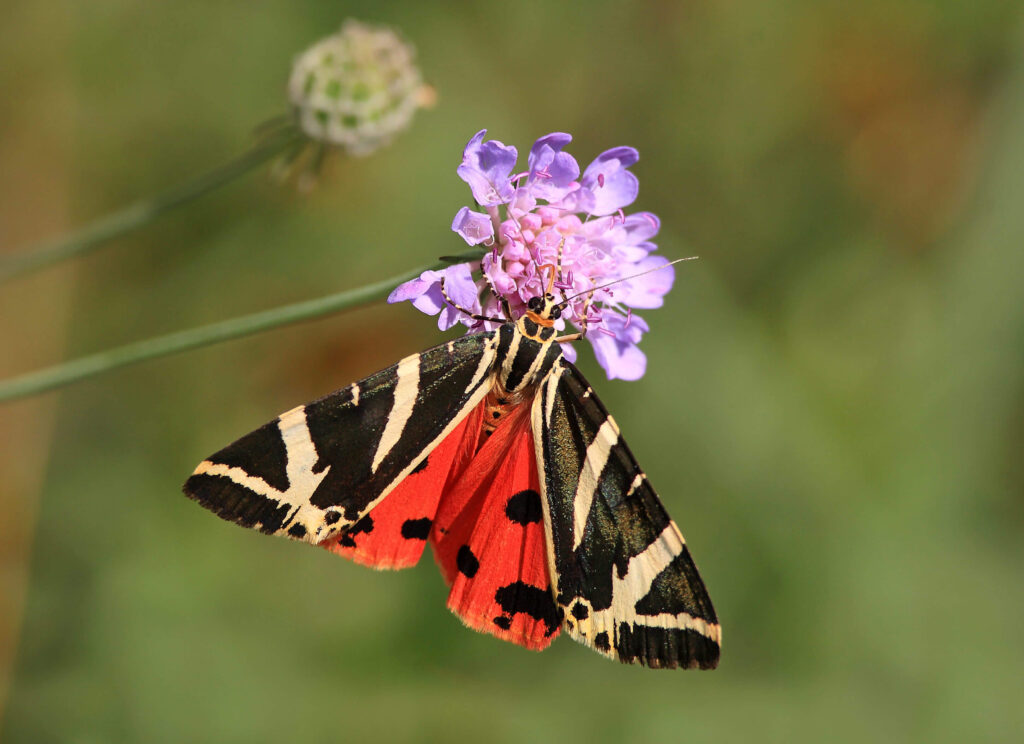 The warm spring weather and blooming wildflowers create the perfect conditions for these delicate creatures to flourish in the picturesque valley.
Don't forget to bring your camera, as you might spot some rare species like the Jersey Tiger butterfly. 
Scuba Diving
The crystal-clear waters around Butterfly Valley offer excellent opportunities for scuba diving.
There are several diving centers in Oludeniz and Fethiye that organize diving trips to nearby sites, allowing you to explore the vibrant underwater world.
Camping
For those who want to immerse themselves in nature, camping is an excellent option.
There is a designated camping area in Butterfly Valley, equipped with basic amenities. 
Camping allows you to experience the valley's tranquility, especially in the evenings when the day-trippers have left.
Accommodation at Butterfly Valley
There is limited accommodation in Butterfly Valley itself, with a few rustic bungalows and treehouses available for rent.
For those who prefer more comfortable lodgings, there is a wide range of hotels and guesthouses in nearby Oludeniz and Fethiye.
When to Visit Butterfly Valley
The best time to visit Butterfly Valley is from April to October when the weather is warm and sunny.
This period also coincides with the butterfly season, offering the best chances of spotting the valley's namesake creatures.
How Many Days to Spend at Butterfly Valley
Depending on your interests and how much time you have, you can spend anywhere from a day to several days exploring Butterfly Valley and its surroundings. 
A day trip is enough to enjoy the beach, waterfall, and some butterfly spotting, while a longer stay allows for more leisurely exploration, hiking, and diving experiences.
Conclusion
In conclusion, Butterfly Valley is a captivating destination that offers a perfect mix of natural beauty, adventure, and relaxation.
Whether you're a nature lover, a beach bum, or an adrenaline junkie, this hidden gem in Turkey has something for everyone. 
With its rich history, diverse flora and fauna, and a range of exciting activities, Butterfly Valley should definitely be on your bucket list.
So pack your bags, put on your hiking boots, and set sail for this enchanting valley along Turkey's stunning turquoise coast.
Butterfly Valley is nestled between the towns of Fethiye and Oludeniz in Turkey.
It's known as a nature reserve, home to over 100 species of butterflies, including the rare Jersey Tiger butterfly.
You can get there by shuttle boat, boat cruise, or hiking from the village of Faralya.
Activities include relaxing on the beach, visiting the waterfall, butterfly spotting, scuba diving, and camping.
Limited accommodation is available in the valley. More options are available in nearby Oludeniz and Fethiye.
The best time to visit is from April to October, which coincides with the butterfly season.
Depending on your interests, you can spend anywhere from a day to several days exploring the area.