Discovering Pigeon Valley: A Guide to Cappadocia's Hidden Gem
Nestled in the heart of Cappadocia, (distance from Pigeon Valley to Fethiye, is approximately 450 kilometers or 280 miles) Turkey, Pigeon Valley is a must-visit destination for history buffs and adventure seekers alike. 
With its fascinating history, breathtaking landscapes, and unique attractions, it's no wonder why this enchanting place has captured the hearts of many travelers. 
In this post, we'll dive into the history of Pigeon Valley, guide you through the best ways to get there, and share some tips on how to make the most of your visit. Let's get started!
History of Pigeon Valley
Pigeon Valley, also known as pigeon valley in Uchisar, boasts a rich history dating back thousands of years. 
The valley was once inhabited by ancient civilizations who carved dwellings, churches, and monasteries into the soft volcanic rock.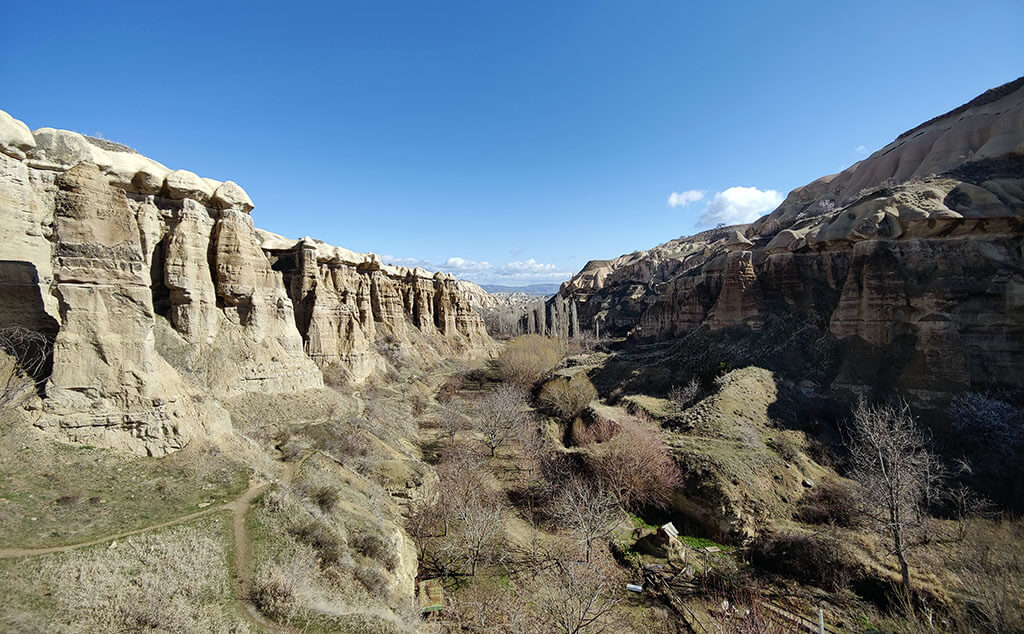 Pigeon Valley gets its name from the countless pigeon houses that were carved into the cliffs by locals, who relied on the birds for their valuable droppings, which were used as fertilizer for the region's agriculture.
How To Get To Pigeon Valley
By Bus
One of the most convenient ways to reach Pigeon Valley is by taking a bus from the nearby town of Göreme.
Many local bus companies offer daily services to Uçhisar, the closest town to Pigeon Valley.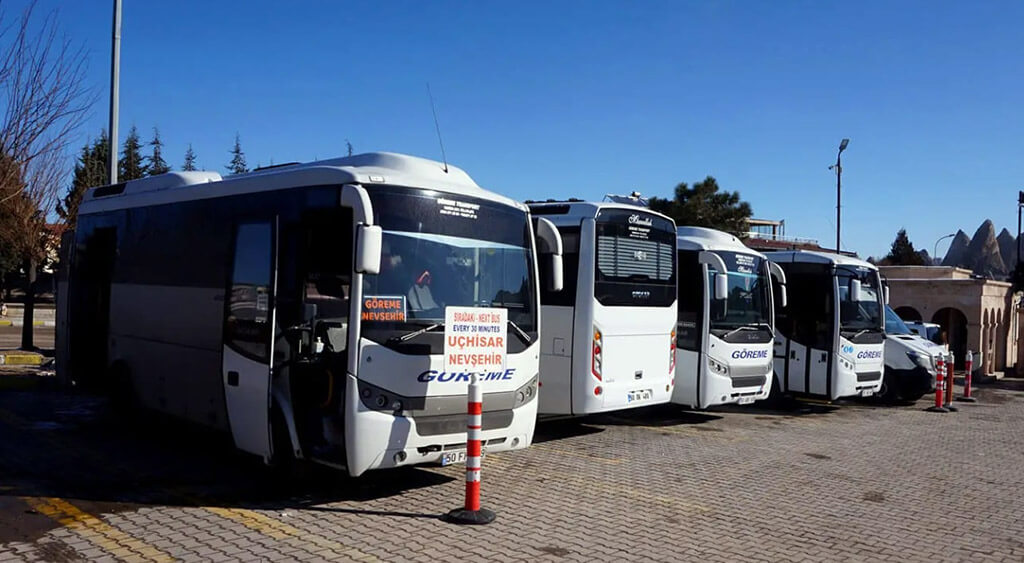 The journey takes about 20 minutes and offers stunning views of the surrounding landscape. Once you arrive in Uçhisar, you can easily walk to the entrance of Pigeon Valley.
By Car
If you prefer a more flexible mode of transportation, renting a car is a great option. You can rent a car in Göreme or other nearby towns, and drive to Pigeon Valley from Göreme in just 15 minutes.
Parking is available near the entrance of the valley, making it easy to explore the area at your own pace.
Hiking
For those who enjoy a more active approach, hiking in Pigeon Valley is an unforgettable experience.
The trail starts in Uçhisar and winds its way through the stunning landscapes, passing by fascinating rock formations, ancient cave dwellings, and of course, the famous pigeon houses.
Hiking the entire trail takes approximately 2-3 hours, so be sure to wear comfortable shoes and bring plenty of water.
At the end of the scenic hike through Pigeon Valley, visitors can continue straight to the charming village of Goreme. 
What to See in Pigeon Valley
There's no shortage of attractions to explore in Pigeon Valley. Some must-see highlights include:
Ancient cave dwellings and churches: Marvel at the incredible craftsmanship of the structures carved directly into the rock.

Pigeon houses: Discover the unique architecture of the pigeon houses and learn about their historical importance to the region.

Panoramic viewpoints: Stop at various viewpoints along the trail to take in the breathtaking scenery of Cappadocia.

Uchisar Castle: this impressive structure offers stunning views of the surrounding landscape and is well worth a visit.
Opening Hours & Entrance Fee
Pigeon Valley is open to visitors all year round, and there is no official entrance fee.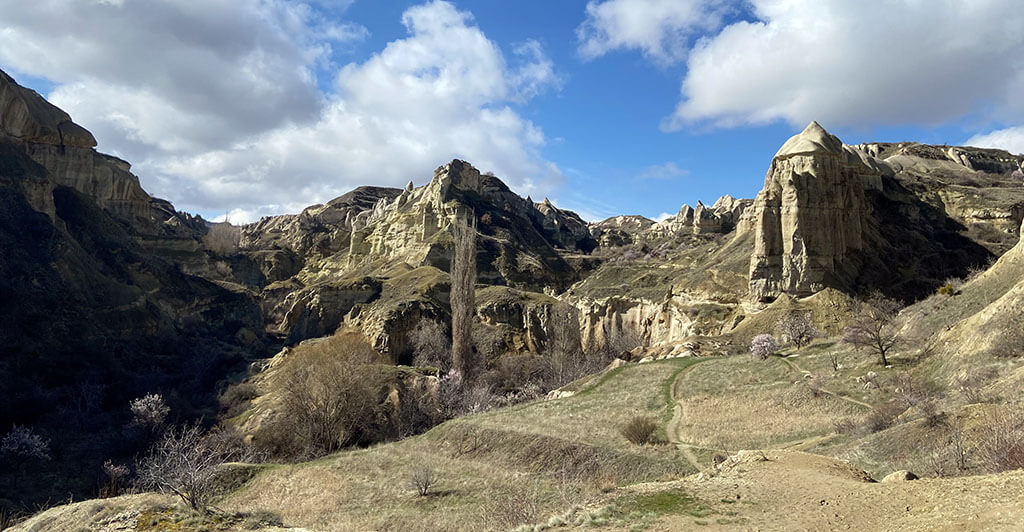 However, some attractions within the valley, such as certain cave churches, may require a small fee to enter.
Be sure to bring some cash in case you come across any sites that charge admission.
Best Time To Visit Pigeon Valley
While Pigeon Valley is a beautiful destination any time of the year, the best time to visit depends on your personal preferences.
Spring (April to June) and fall (September to November) are considered the most ideal seasons for visiting Pigeon Valley in Cappadocia due to milder temperatures and fewer crowds.
During these months, you can enjoy pleasant weather while exploring the valley, which makes for a more comfortable and enjoyable experience.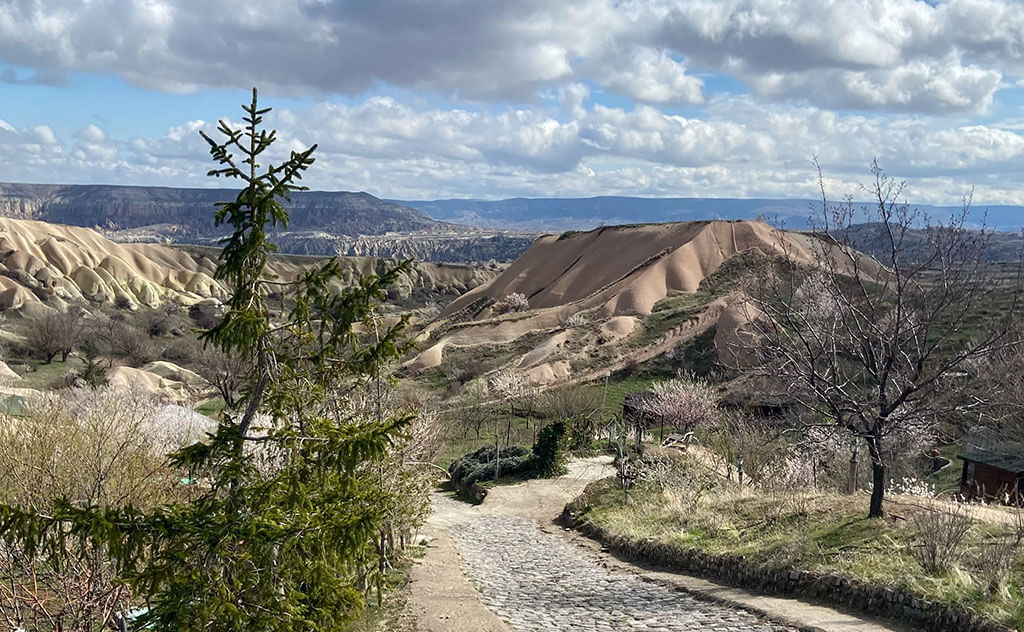 However, if you're interested in experiencing a truly magical sight, visiting Pigeon Valley during winter (December to February) is also worth considering.
The snow-capped rock formations and fairy chimneys create a mesmerizing landscape that is sure to leave you in awe.
Just be prepared for colder temperatures and potentially slippery hiking conditions.
Conclusion
A visit to Pigeon Valley is an unforgettable experience that combines history, nature, and adventure all in one.
Whether you choose to explore the area by bus, car, or on foot, there's no doubt that this hidden gem in the heart of Turkey will leave a lasting impression.
So, pack your bags, lace up your hiking boots, and get ready to embark on an unforgettable journey through the enchanting landscapes of Pigeon Valley in Cappadocia. 
Don't forget to capture the stunning scenery, take in the fascinating history, and marvel at the unique rock formations that make this valley truly one of a kind.
Before you set off on your adventure, be sure to check out FethiyeNow for more helpful tips and information on visiting this beautiful region of Turkey.
With a bit of planning and preparation, you'll be well on your way to creating memories that will last a lifetime.
So what are you waiting for? Book your trip to Pigeon Valley and discover the magic and beauty that awaits you in this captivating corner of the world. Happy travels!