Saklikent Gorge (Kanyonu): Turkey's Hidden Gem and Natural Wonderland
Welcome to the world of Saklikent Gorge, a mesmerizing hidden gem nestled within the Taurus Mountains of Turkey. 
This breathtaking national park boasts the country's longest and deepest canyon, making it a must-see destination for nature lovers and adventure seekers alike.
In this blog post, we'll take you on a journey through the history, stunning landscapes, and exhilarating activities that await you at Saklikent Gorge.
A Brief History of Saklikent Gorge
This awe-inspiring gorge was formed millions of years ago by the natural forces of water erosion, creating the deep canyon and steep slopes that we see today. 
While there isn't a definitive legend associated with the uncovering of Saklikent Kanyonu, an intriguing tale narrates its initial discovery by local inhabitants.
According to this account, a shepherd from the area was on a quest to locate his missing goat when he stumbled upon it near the gorge's entrance.
Intrigued, he trailed the goat into the slender canyon, ultimately unveiling the awe-inspiring spectacle of Saklikent Gorge.
In 1996, the site was designated a national park, thereby ensuring its preservation. Spanning 12,390 hectares, Saklikent encompasses three villages within both the Kaş and Seydikemer districts.
The gorge itself is a distinctive marvel of nature, extending 18 kilometers in length and soaring to heights of 200 meters.
Its most constricted segment narrows to a mere 2 meters, further adding to its extraordinary allure.
Saklikent Kanyonu is now part of a protected national park, ensuring the preservation of its unique natural beauty and ancient ruins for future generations to enjoy.
Where is Saklikent Gorge located?
Saklikent Gorge is located in the Mugla Province of southwestern Turkey, nestled between the towns of Fethiye and Kas.
The gorge is situated approximately 50 kilometers southeast of Fethiye and 95 kilometers from Kas.
This hidden gem is easily accessible from both towns, making it the perfect day trip destination for those looking to immerse themselves in Turkey's natural wonders.
What to Wear on Your Saklikent Gorge Adventure
As you prepare for your visit to Saklikent Kanyonu, make sure to pack the following essentials:
Rubber or submersible shoes: The cool water of the gorge river and the slippery rocks make it essential to wear shoes with good grip. Avoid flip-flops and opt for rubber or submersible shoes to keep your feet protected and comfortable.
Quick-drying clothes: Be prepared to get wet during your canyon adventure! Lightweight, quick-drying clothes are a must, as well as a waterproof bag for your belongings.
Sun protection: Even though you'll be surrounded by steep mountains and black pines, don't forget your sunscreen, sunglasses, and a hat to protect yourself from the sun's rays.
Entrance, Tickets, and Opening Hours
Operating hours for Saklikent National Park are from 08:00 to 22:00, seven days a week. Be aware that access to the park may occasionally be limited due to unexpected fluctuations in water levels.
Admission fees for Saklikent National Park are as follows: 
Adults – 8 TL (0.4 USD)

Students – 4 TL (0.2 USD)

Bicycles – 8 TL (0.4 USD)

Motorcycles – 12 TL (0.6 USD)

Cars – 24 TL (1.2 USD)

Minibuses – 72 TL (3.9 USD)

Midibuses – 120 TL (6.2 USD)

Buses – 216 TL (11.3 USD)
Please note that the Museum Card is not accepted for entry.
What to Do in Saklikent Gorge
There's no shortage of activities to choose from when visiting Saklikent Gorge. Here are a few of our favorites:
River Rafting
For adrenaline junkies, white water rafting down the gorge river is an unforgettable experience.
Make sure to use professional equipment and, if possible, go with a guide to ensure a safe and thrilling adventure. 
Spanning a distance of 5 kilometers, the exhilarating rafting course at Saklikent Gorge (Kanyonu) can typically be completed in a brisk 30 minutes.
River Canoeing
A favored pastime within the gorge, river canoeing allows visitors to navigate the pristine waters of the Eşen River while admiring the breathtaking canyon landscape. 
Numerous local tour companies provide guided canoeing adventures, with options varying from brief outings to immersive full-day experiences.
Mud Bath
Don't miss out on the opportunity to enjoy a natural mud bath at one of the free mud ponds within the gorge.
This rejuvenating experience is said to have numerous health benefits, and it's also great fun!
Trekking
Hiking through the stunning landscapes of Saklikent Gorge is a must for any nature enthusiast.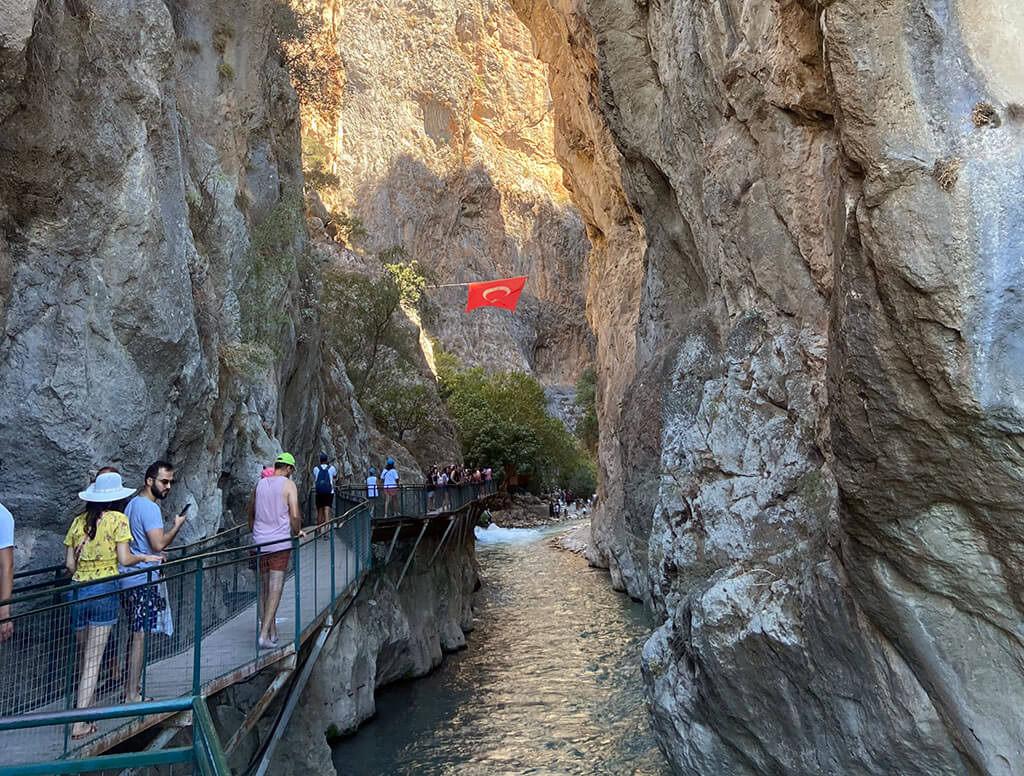 Make your way along the shallow water, marvel at the steep slopes, and take in the breathtaking views of this beautiful place.
How to Get to Saklikent Gorge
From Fethiye
You can easily reach Saklikent Gorge from Fethiye by car, public transportation, or on an organized tour.
The drive takes approximately 1 hour, and the roads leading to the gorge are well-maintained. Alternatively, consider booking a day trip to Saklikent Gorge, which often includes transportation, a guide, and other activities.
Departure from Fethiye
Weekdays
Weekends
07:20
07:30
08:00
08:30
08:50
09:30
09:40
10:15
10:30
11:00
11:00
11:45
11:15
12:35
11:50
13:25
12:35
14:15
13:20
15:00
13:55
16:00
4:30
16:30
15:00
17:00
15:20
17:30
15:45
18:00
16:20
18:30
16:45
19:00
17:10
19:30
17:35
20:00
18:00
22:30
18:25
 
18:50
 
19:15
 
20:00
 
22:30
 
Departure from Saklikent
Weekdays
Saturday
Sunday
06:00
06:30
06:30
06:25
06:50
07:00
06:45
07:10
07:30
07:00
07:30
08:00
07:15
08:00
08:30
07:30
08:30
09:20
07:45
09:20
10:00
08:00
10:00
10:30
08:30
10:30
11:15
08:45
11:15
12:00
09:10
12:00
12:45
09:30
12:45
13:30
10:00
13:30
14:15
10:30
14:15
15:00
11:00
15:00
15:30
11:35
15:35
16:00
12:10
16:10
16:30
12:45
16:45
17:00
13:00
17:20
17:30
13:50
18:00
18:00
14:40
 
 
15:30
 
 
16:15
 
 
17:00
 
 
18:00
 
 
From Kas
If you're traveling from Kas, the drive to Saklikent Gorge takes around 2 hours. Public transportation options are also available, or you can join a guided tour from Kas to explore the gorge.
Best Time to Visit Saklikent Gorge
The ideal time to visit Saklikent Gorge is during the spring and autumn months when the weather is pleasant, and water levels are lower. 
The winter months can be quite cold, and water levels may rise, making certain areas of the gorge inaccessible. To learn more about the weather in the region, check out Fethiye's weather guide.
How Much Time Should You Spend at Saklikent Gorge?
To fully appreciate the natural beauty and variety of activities at Saklikent Gorge, we recommend setting aside at least half a day for your visit.
This will give you ample time to explore the canyon, relax by the river, and take part in activities like river rafting or trekking.
Conclusion
Saklikent Gorge is truly one of Turkey's most extraordinary natural wonders.
With its deep canyon, steep slopes, and crystal-clear river, it offers visitors a unique opportunity to connect with nature and experience thrilling adventures. 
So, pack your waterproof bag, put on your submersible shoes, and get ready to explore the hidden gem of Saklikent Gorge on your next trip to Turkey!
If you're looking for more fantastic destinations and experiences in the region, check out our guide to the best hotels at Calis Beach or discover the best restaurants on Calis Beach. And for those with a taste for the unique, don't miss our recommendations for Cappadocia's cave hotels with the best views for hot air balloons. 
No matter what you choose, you're sure to fall in love with Turkey's natural beauty, rich history, and vibrant culture. Happy exploring!
Saklikent Gorge is approximately 50 kilometers (about 31 miles) from Hisaronu, Turkey.
The driving distance may vary depending on the specific route taken, but it usually takes around 1 to 1.5 hours to reach Saklikent Gorge from Hisaronu by car.