Discovering Goynuk Canyon: A Hidden Gem in Antalya
Journey with us as we explore the breathtaking Goynuk Canyon, also known as Göynük Kanyonu, a natural wonder nestled in the idyllic town of Goynuk.
It's situated in the Kemer district of the Antalya Province, Southern Turkey. 
Imagine a place where time seems to have stood still, where nature unfolds in its most pristine form, and where adventure awaits at every turn. Goynuk Canyon is just such a place.
Geographical Description and Formation of Goynuk Canyon
Göynük Kanyonu is not just a random structure; it's a masterpiece shaped by the relentless hands of nature.
The canyon was sculpted over millions of years due to the gradual erosion of rocks by the Goynuk stream. 
This continuous process resulted in the formation of the deep and narrow Kemer Canyon, also known as the Antalya Canyon.
Nestled in the heart of Southern Turkey, Goynuk Canyon is located in the picturesque town of Goynuk, part of the Kemer district in the Antalya Province. 
Specifically, the address is Beldibi Mahallesi, Çomaklar Mevkii, No:73 Göynük Kanyonu, 07982 Kemer/Antalya.
Unique Natural Features of Goynuk Canyon
The natural features of Göynük Kanyonu are nothing short of spectacular. Enveloped by towering rock walls, the canyon houses crystal clear waters, natural pools, and cascading waterfalls that invite visitors for a refreshing dip. It's an ideal location for canyoning, canyon exploration, and gorge climbing.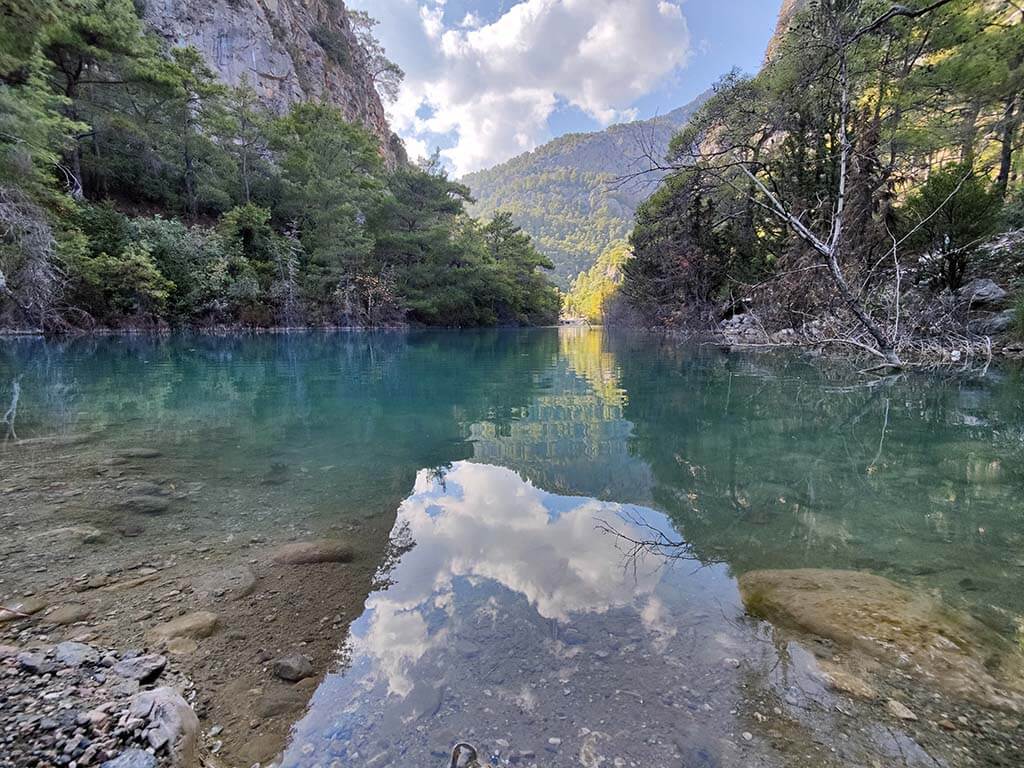 Amidst the serene ambiance, you can find the Nature Trail, a popular Hiking Trail or Trekking Path.
This trail meanders through the canyon, offering an immersive experience of the canyon's unique microclimate. It's here you get to witness the power of nature, the tranquility of solitude, and the thrill of adventure.
Flora and Fauna of Goynuk Kanyonu
Goynuk Canyon is home to a plethora of unique plants and animals. From endemic species that have made the canyon their habitat to migratory birds that stop over during their seasonal journeys, the canyon is a living testament to Turkey's rich biodiversity.
Whether you're a botany enthusiast or an amateur bird watcher, this place will not disappoint.
The canyon's ecosystem plays an essential role in maintaining the biodiversity of the Antalya Region, and conservation efforts are ongoing to preserve this delicate balance.
What Can I Do in Göynük Canyon: Adventures and Scenic Trails Await
Stepping into Göynük Kanyonu, you're immediately greeted by the sight of a wild river meandering through idyllic landscapes, cascading waterfalls, and the stunning canyon itself – a scene that's sure to take your breath away.
The canyon serves as an adventure park of sorts, teeming with a variety of activities designed for the thrill-seekers and nature lovers alike.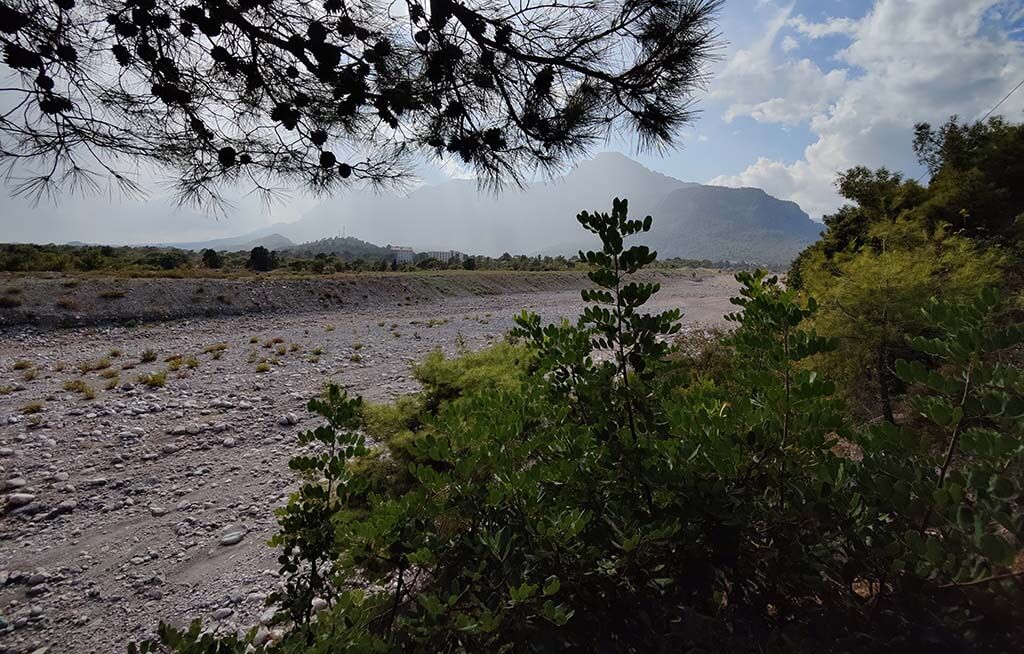 You can dive into the rush of rafting down the river or embark on canyoning safari tours that offer a unique blend of hiking, climbing, swimming, and abseiling.
For those looking for a competitive twist, paintball is available, making for a fun-filled group activity.
For a bird's eye view of the mesmerizing canyon, take a daring ride on the zipline, located 40 meters above the ground.
On the other hand, if you prefer a self-guided tour, an approximately 3-kilometer long walking route offers a peaceful journey through Göynük Canyon (Kanyonu).
The Hiking Trail in Göynük Kanyonu
The hiking trail in Göynük Canyon is a sensory delight. As you amble along the gravel path that leads into the canyon, you'll be serenaded by the soothing sounds of the river, the rustling pine forests, and the gentle whispers of the wind.
Keep an eye out for local wildlife, as it's not uncommon to spot salamanders here.
Along the trail, you may cross paths with fellow hikers, some of whom might be trekking the 510-meter Lycian Way that meanders along the mountains of the Lycian Coast.
Approximately a kilometer into your journey, you'll reach the trail's highest point. Here, a wooden fountain offers a welcome respite, dispensing fresh spring water.
The nearby bench provides a perfect spot for a break, offering a breathtaking view of the river.
Following this spot, the trail continues for another 2 kilometers over a rather steep slope, eventually leading to the canyon. The end of the trail is marked by a quaint cabin overlooking a picturesque lake.
For those partaking in guided hiking tours with the appropriate equipment, the canyon itself can be explored from here.
Others can take a well-deserved break by the lake's edge. The crystal clear, icy water offers a refreshing dip on hot days, while the cabin serves up snacks and beverages during the season.
Whether you're an adrenaline junkie seeking heart-pounding activities or a nature lover looking for serene walks, Göynük Canyon has something for everyone.
The stunning landscapes, abundant activities, and rich biodiversity are sure to make your visit to Göynük Canyon a memorable one.
Before you embark on your trip, consider planning your itinerary using resources like FethiyeNow, which offers helpful information about nearby attractions like the Saklikent Gorge, Kapuz Canyon and the Lycian Rock Tombs in Fethiye.
Dining at Göynük Canyon: A Rustic Experience by the Lake
After a day of thrilling adventures and scenic trails at Göynük Kanyonu, there's no better way to unwind than at the rustic restaurant located right at the canyon's entrance.
This eatery, situated by the lake, offers a tranquil ambiance that complements the natural beauty surrounding it.
Boasting plenty of seating, this restaurant provides an ideal setting for a relaxing meal, whether you're a solo explorer taking a breather or a group of friends recounting the day's adventures.
The serene view of the lake serves as a picturesque backdrop, enhancing the overall dining experience.
The menu offers an authentic taste of Turkey with a special emphasis on barbecue dishes. Whether you're craving for juicy grilled meats, succulent kebabs, or a variety of delectable mezzes, you're in for a treat.
Complementing the main dishes are various snacks, perfect for those simply wanting a quick bite.
The food here is more than a meal, it's a culinary journey that celebrates the traditional flavors of Turkey.
So, after a day of exploring the canyon, sit back, relax, and refuel with a hearty meal at this charming restaurant by the lake at Göynük Canyon (Kanyonu).
Admission and Tickets to Göynük Canyon: Key Information for Visitors
Visiting Göynük Kanyonu is a rewarding experience filled with natural beauty and thrilling activities.
To ensure a smooth visit, here's what you need to know about admission and tickets.
The entrance ticket to the canyon is priced at 30 lira. You can purchase your tickets conveniently at the ticket box located nearby the entrance.
The tickets provide access to the hiking trail and the canyon, offering a full day of exploration and adventure.
Working Hours
Göynük Canyon is open to visitors every day from 9:00 to 18:30. This ensures ample time for you to immerse yourself in all the canyon has to offer.
However, to fully participate in the various activities, it is recommended to enter at least 90 minutes before the closing time.
Therefore, aim to be there by 17:00 at the latest. This allows you enough time to explore the canyon, participate in any activities you're interested in, and make the most out of your Göynük Canyon experience.
Plan your visit accordingly to maximize your time and enjoy all the breathtaking sights and thrilling activities that Göynük Canyon has to offer.
How to Get to Göynük Kanyonu
Reaching Göynük Canyon is relatively straightforward, whether you're traveling by private or public transportation.
The canyon is situated in the scenic town of Göynük, within the Kemer district of the Antalya Province.
By Rental Car
For those who prefer the convenience and flexibility of a private vehicle, a rental car is an excellent option.
From Antalya, take the D-400 highway towards Finike. This route leads directly to Göynük Canyon.
Keep an eye out for the signposted exit marked as "Göynük-Beldibi", located not far from the bridge.
Once you reach the canyon, parking is available at the entrance, offering easy access to the start of your adventure.
By Municipal Bus
If you're looking for an eco-friendly and budget-friendly option, the municipal bus service is a solid choice. 
The bus operates hourly from Göynük town to Göynük Kanyonu. This is a convenient option, especially for those staying in or near Göynük.
Moreover, traveling by bus allows you to soak in the beautiful Turkish countryside during your journey.
Conclusion
Goynuk Canyon is not just a geographical marvel; it's a place where you can connect with nature on a profound level.
Its importance to the local economy through tourism and its role in conserving biodiversity cannot be overstated.
As a hidden gem in the Antalya Province, the canyon's beauty remains largely untouched. The local community and authorities work tirelessly to promote sustainable tourism, ensuring this natural wonder can be enjoyed by future generations.
Your visit to the Goynuk Canyon will be more than just a holiday; it will be an unforgettable experience that combines adventure, relaxation, and education.
So come and discover this lesser-known side of Turkey, where the majesty of nature and the richness of history come together in perfect harmony.
Whether you're a thrill-seeker ready to try canyon adventure or a nature lover looking to explore unique points of interest, a trip to Goynuk Canyon promises an experience that is as diverse as it is captivating.
Make sure to check out our map of Turkey to help you plan your journey, and don't forget to bring your camera – Goynuk Canyon is a place you'll want to remember forever.
So pack your bags, put on your hiking shoes, and get ready to explore Goynuk Canyon – a testament to the timeless beauty of nature.
Goynuk Canyon (Göynuk Kanyonu) is located in Southern Turkey, specifically in the town of Goynuk, part of the Kemer district in the Antalya Province.
The exact address is Beldibi Mahallesi, Çomaklar Mevkii, No:73 Göynük Kanyonu, 07982 Kemer/Antalya.
To reach Göynük Canyon, you can either use a rental car or the municipal bus. From Antalya, drive along the D-400 highway towards Finike, and look for the "Göynük-Beldibi" exit. Alternatively, take the hourly bus from Göynük town to Göynük Kanyonu. Parking is available at the canyon entrance.