Sapadere Canyon: A Hidden Gem of Turkey
Prepare to have your breath taken away by Sapadere Canyon. Located in the majestic Taurus Mountains, this canyon is a testament to nature's sheer power and beauty. 
Enclosed by rugged rock walls and dotted with a myriad of flora and fauna, this picturesque valley offers a blend of peace and adventure that's hard to find elsewhere. And the cherry on top?
The beautiful waterfall and ice-cold spring water pools that await you at the end of the trail.
The Location of Sapadere Canyon: Where Nature Meets Adventure
Sapadere Kanyonu is comfortably nestled in the heart of the Taurus Mountains, with its precise location being Sapadere, 07430 Alanya.
This location, cocooned amidst the rugged terrain and lush greenery of the Taurus Mountains, adds a touch of mystique to the canyon, making it even more appealing.
The canyon stretches across 750 meters of mesmerizing landscapes and fascinating geological formations.
Each step you take through this sprawling length reveals a new facet of nature's splendor.
Be it the towering rock walls, the vibrant flora and fauna, or the serene sound of the ice-cold spring water, the canyon captivates your senses at every turn.
Activities to Do in Sapadere Canyon
Your visit to the Sapadere Canyon (Kanyonu) wouldn't be complete without indulging in some of these incredible activities:
Hiking and Swimming
Imagine a cool breeze on your face, the sound of your footsteps echoing in harmony with the chirping of birds, and nature's unfiltered beauty surrounding you.
That's what hiking in Sapadere Canyon feels like. This impressive mountain landscape offers an invigorating 30-minute hike that will leave you with memories to cherish forever.
The well-maintained wooden trails make your journey through the picturesque valley a joy. As you tread these trails, you get to breathe in the crisp, fresh air and admire the awe-inspiring natural pools.
Along the path, you may even catch glimpses of various animal species that call this valley their home.
As you near the end of your hike, you'll find yourself in the charming village of Sapadere, located right in the heart of the canyon.
Here, a beautiful waterfall and natural pools welcome you with open arms. For the daring among you, a leap into the ice-cold spring water awaits.
Don't worry if you're not a natural swimmer; there are ladders placed in strategic spots for an easy descent into the inviting pools.
Make sure to venture to the farthest end of the canyon where you'll find the most beautiful pool, nestled by the waterfall. It's the perfect spot to unwind and soak in the breathtaking view around you.
So, tie your laces tight, grab your backpack, and get ready to embark on a hiking experience like no other in Sapadere Canyon!
Exploring Dwarf Cave
A trip to Sapadere Canyon would be incomplete without a detour to the intriguing Dwarf Cave.
Just a few kilometers above the valley, this stalactite cave is a must-visit for anyone who appreciates nature's artistry and geological marvels.
Despite its name, there's nothing small about the wonders Dwarf Cave has to offer.
The cave welcomes you with a cool respite from the outside, serving as a perfect balance to the sun-kissed landscapes of the canyon. 
As you stroll through this naturally air-conditioned space, you're treated to an incredible spectacle of stalactites that dangle like nature's chandeliers from the cave's roof.
A short walk through Dwarf Cave isn't just a break from your hike – it's a journey back in time.
These geological formations have been thousands of years in the making, and witnessing them firsthand is a humbling reminder of the Earth's grand timeline.
So, as you plan your visit to Sapadere Canyon, remember to carve out a bit of time to visit Dwarf Cave. This breathtaking attraction promises to add an extra layer of wonder to your overall canyon experience.
Visiting Dim Çayı National Park
While you're here, don't miss the chance to visit the nearby Dim Çayı National Park.
Guided Tours
Planning a guided tour? You'll find a range of Sapadere Canyon tours that offer an array of experiences. 
Whether you're interested in photography, hiking, or cultural immersion, there's something for everyone.
Dining at Sapadere Canyon
When it comes to dining options, Sapadere Canyon is no less than a delightful surprise. Tucked away in the serene landscapes of the canyon, you'll find a variety of charming eateries, each promising a unique gastronomic experience.
At the canyon's entrance, a local restaurant awaits you with a warm welcome.
Here, you can satiate your hunger pangs after a fulfilling hike with a variety of delicious dishes on the menu. From local delicacies to popular international cuisines, this restaurant has something to please every palate.
A little further into the canyon, there's another wonderful dining option. This restaurant offers a seating area that is truly intertwined with nature. 
As you enjoy their home-cooked meals, you can soak in the beautiful vistas of the surrounding landscapes.
There's something incredibly soothing about savoring a hearty meal amidst such serene surroundings. It's an experience you won't want to miss.
For those who enjoy a light snack with their explorations, "IN KAFE" is the perfect pitstop. Nestled within a cozy stone cove in the canyon, this cafe offers a variety of hot beverages and scrumptious snacks to keep you energized for the rest of your journey.
Entrance Fees and Tickets for Sapadere Canyon
While the unparalleled natural beauty and mesmerizing landscapes of Sapadere Canyon are priceless, gaining access to this natural wonder does come with a nominal fee. 
Visitors are required to purchase tickets at a cost of 1.5 Euros (30 TL) per person.
This small investment provides you with the gateway to an adventure that promises to leave you with memories that are truly invaluable.
It's essential to note that the Museum Card, commonly used for entry to various attractions across Turkey, is not valid here at Sapadere Canyon. This means you'll have to purchase a separate ticket for your visit.
Tickets can be bought on arrival at the entrance to the canyon. It is recommended to carry exact change to ensure a smooth transaction.
For up-to-date information, visit the canyon's official website.
Tips for Visiting Sapadere Canyon
Visiting the canyon is undoubtedly an incredible experience, but here are a few tips to ensure you make the most out of your visit:
Dress Appropriately: Given the canyon's rugged terrain, wearing comfortable shoes and dressing in layers is advisable.

Stay Hydrated: Especially during summer, keep water handy and stay hydrated.

Respect the Environment: Remember, we're visitors in nature's home. Leave no trace and respect the wildlife.

Early Bird Gets the Worm: Visit early in the morning to beat the crowd and the heat.

Capture the Memories: Don't forget your camera to capture the stunning beauty of the canyon.
Opening Hours
Planning your visit to Sapadere Canyon is easy thanks to its convenient opening hours. The canyon is open for exploration every day, making it a fantastic destination regardless of your travel schedule.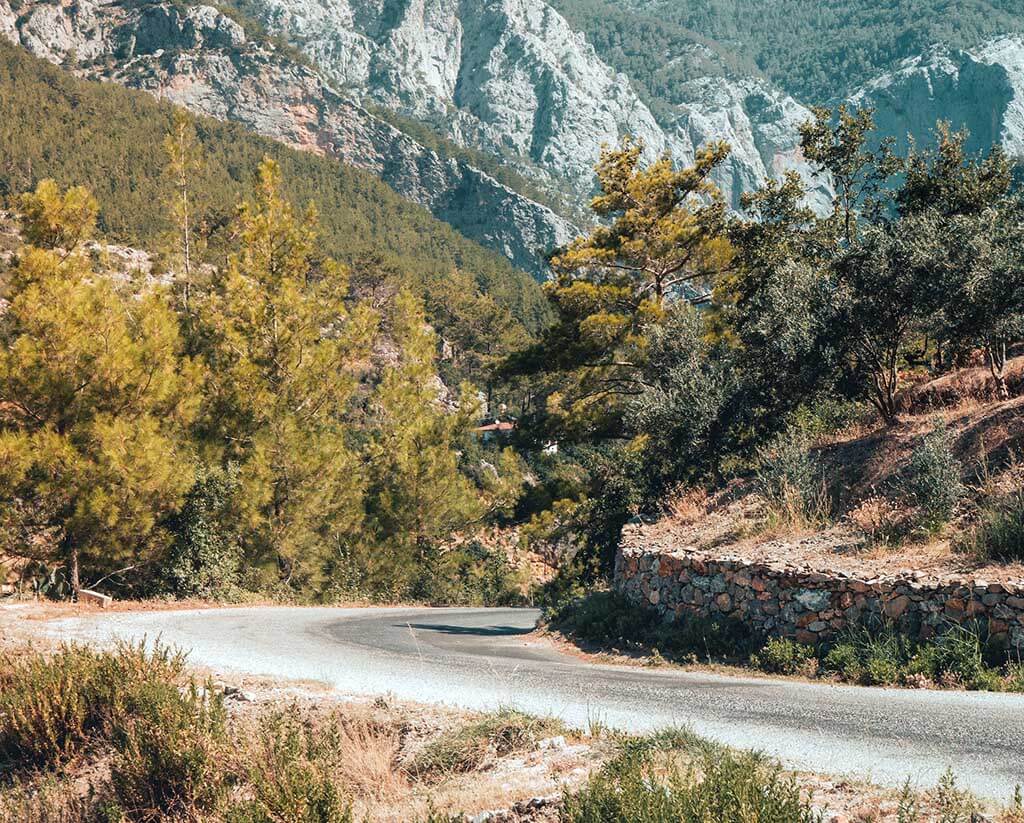 The gates swing open at 8:30 in the morning and remain welcoming until 18:30 in the evening. This ample window of time gives you the flexibility to plan your visit according to your convenience.
Whether you're an early bird who revels in the morning sunlight or someone who prefers the serenity of the late afternoon, Sapadere Canyon is ready to enchant you.
How to Get to Sapadere Kanyonu
Regrettably, public transport isn't available for this route, which makes independent transportation your go-to option. 
For those seeking convenience and a dash of adventure, signing up for a guided day trip is an excellent choice.
You can opt for an exhilarating jeep safari that not only takes you to the canyon but also ensures an unforgettable journey through the picturesque landscapes.
If you prefer a self-paced journey, a rental car is your best bet. The roads leading to Sapadere Canyon are well marked, ensuring a hassle-free drive even for those new to the region.
What's more, ample parking facilities are available on site, making it convenient for you to explore the canyon without worrying about your vehicle.
So, whether you're up for an exciting jeep safari or prefer the freedom of a self-driven trip, getting to Sapadere Canyon is a journey that's part of the whole experience. Be sure to make the most of it!
Best Time to Visit
The best time to visit Sapadere Canyon is during spring (April to June) and autumn (September to November) when the weather is pleasant. 
If you're a heat enthusiast, you might enjoy the summer, but remember the canyon can get quite busy during this time. 
Conclusion
In a nutshell, a visit to Sapadere Canyon isn't just a day trip; it's a journey through awe-inspiring landscapes, an exploration of a unique culture, and an adventure filled with memories that will last a lifetime. 
Whether you're a solo traveler, an adventure junkie, or on a family vacation, the canyon has something to offer for everyone. So, pack your bags, put on your hiking shoes, and get ready to explore this hidden gem of Turkey!
Here's a final tip: Don't forget to stop by the souvenir shop to pick up a little something to remember your trip by!
To get to Sapadere Canyon, you can either sign up for a guided day trip like a jeep safari or rent a car. Public transport is not available. If driving, follow the well-marked roads to the canyon, and use the ample parking facilities on site.
Sapadere Canyon, also known as Sapadere Kanyonu, is located in Sapadere, 07430 Alanya, nestled in the heart of the Taurus Mountains. It stretches across 750 meters, surrounded by the rugged terrain and lush greenery of these mountains.
Sapadere Canyon opens at 8:30 in the morning and closes at 18:30 in the evening. This schedule allows for flexibility in planning your visit according to your convenience.
The entrance fee for Sapadere Canyon is 1.5 Euros (30 TL) per person. Please note that the Museum Card, used for many attractions in Turkey, is not valid here; you'll need to purchase a separate ticket.
The best time to visit Sapadere Canyon is during the spring (April to June) and autumn (September to November) when the weather is pleasant. It can be busy during the summer.