A Deep Dive into Tazı Kanyonu: Unveiling Turkey's Hidden Gem
Tazı Kanyonu or Tazi Canyon, nestled in the majestic Taurus Mountains, is an unspoiled haven of natural beauty and thrilling adventure waiting to be discovered.
The History of Tazı Canyon
As you gaze at the breathtaking landscapes of Tazı Canyon, it's fascinating to reflect on the rich tapestry of history that's woven into this natural marvel. 
Located in the Köprülü Canyon National Park, Tazı Canyon has witnessed the echoes of ancient civilizations and the transformative power of nature over millennia.
A Battle of Antiquity
Centuries ago, this region was the backdrop for a decisive conflict—the Battle of Eurymedon.
The Greeks and Persians, two of antiquity's most formidable civilizations, clashed along the banks of the beautiful Köprüçay river, which is said to be the Eurymedon of ancient times. 
'Eurymedon', a term derived from the Greek language, fittingly translates to 'beautifully flowing water'. This conflict left an indelible mark on the area, shaping its historical significance.
Birth of a National Park
Despite its rich history and undeniable natural beauty, the protection of Tazı Canyon and its surrounding areas was not formally established until the 20th century.
In 1973, following a comprehensive evaluation of the region's cultural and natural resources, the Köprülü Canyon National Park was formally declared.
The park spans a vast area of about 36,614 hectares and is a sanctuary for diverse flora and fauna.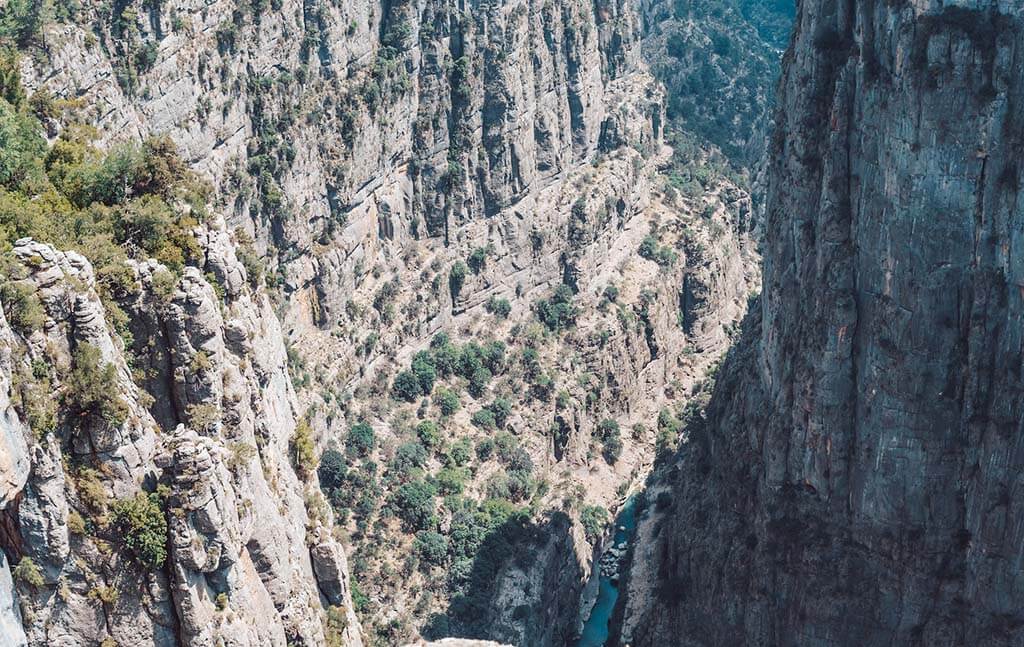 Tazı Canyon, sitting in the heart of this national park, became an integral part of this preservation effort. This status has ensured the protection and conservation of its unique geological formations, diverse wildlife, and historical sites.
Today, Tazı Canyon stands as a testament to Turkey's commitment to preserving its natural and cultural heritage.
It invites visitors to step back in time, to marvel at the grandeur of its landscapes, and to uncover the tales of ancient battles and civilizations that once flourished here.
As you traverse its rugged trails, you're walking on the pages of history, following in the footsteps of ancient Greeks and Persians, and becoming a part of its story.
How to Get to Tazı Kanyonu
Located about 104 km from the vibrant city of Antalya, Tazı Canyon (also known as Eagles Canyon) resides in the quaint town of Beşkonak, nestled between Serik and Manavgat.
To make your journey to this picturesque location smoother, here are some detailed instructions:
Public Transportation
If you are traveling from the center of Antalya, you can take advantage of the robust public transportation system.
First, catch a bus heading towards Manavgat. Buses are a comfortable and affordable way to explore the region.
Once you reach Manavgat, hop on one of the available buses or minibusses (Dolmuş) heading towards Köprülü Canyon National Park.
Tazı Canyon is located within the boundaries of this national park. The bus ride offers an excellent opportunity to catch glimpses of the surrounding Turkish countryside.
By Car
If you prefer the freedom of self-driving, getting to Tazı Canyon by car is a great option.
Start your journey from Antalya and drive towards Gaziler. On the way, you'll cross a picturesque bridge that connects the two areas.
Continue your journey for about 10 km, and you'll arrive at the canyon crossroad. Here, look out for the sign indicating Tazı Canyon; it's your cue to turn.
As you get closer to Tazı Canyon, remember that the roads may become a little rough.
The terrain leading to the canyon can be challenging, so it's advised to choose a sturdy vehicle that can comfortably handle such conditions.
Best Time to Visit Tazı Kanyonu
Every season uncovers a unique aspect of Tazi Canyon.
However, the best time to visit is during spring and fall, when the weather is ideally mild for outdoor activities. 
Before you plan your trip, do check out the detailed weather forecast.
Things to Do at Tazı Canyon
Hiking in Tazı Kanyonu
Tazi Canyon offers spectacular hiking trails. Whether you're an experienced hiker ready for the Termessos hike or a beginner looking for a leisurely stroll, Tazi has you covered.
Rafting Experience
Get ready for an adrenaline-pumping rafting experience at Tazi Canyon. Navigate the white waters of the Manavgat River, all under the guidance of trained professionals. 
Combine this with a visit to the Selge Ancient City for a Tazi Canyon & River Rafting Combo Adventure.
Ziplining and Quad Adventure
Craving more excitement? Try ziplining across the canyon or embark on a thrilling Quad and Buggy Adventure.
The Antalya Tazı Kanyon Zipline offers a breathtaking view of the Eagles Canyon.
Wildlife and Natural Beauty
Tazi Canyon is a sanctuary of wildlife and unspoiled natural landscapes. Get ready to encounter the fascinating fauna in the heart of nature's grandeur.
Camping and Dining
For those seeking tranquility, the serenity of the Taurus Mountains provides the perfect backdrop for a camping adventure. The locale also offers quaint eateries to savor delicious local cuisine.
How to Enter Tazı Kanyonu: Entrance and Tickets
Nestled within the boundaries of Köprülü Canyon National Park, Tazı Kanyonu is a natural treasure that offers unrestricted access to its captivating beauty. 
The park, situated approximately 11 km from Köprülü Canyon, houses this exquisite canyon.
Entrance
The beauty of Tazı Kanyonu is not just in its natural appeal, but also in its accessibility. You'll be pleased to know that the entrance to this captivating site is completely free. 
This is because Tazı Canyon is a part of the Köprülü Canyon National Park, a national park managed by the government of Antalya. So, you can simply walk in and start exploring the majestic sights that await you.
Tickets
Reflecting its commitment to promoting natural beauty and cultural heritage, the Turkish government has ensured that Tazı Kanyonu remains freely accessible to all.
That's right, there's no ticket required to enter Tazı Canyon. Visitors can explore the area, absorb its rich beauty, and partake in the various adventure activities without worrying about purchasing a ticket.
However, do remember that while entry to the park and the canyon is free, some activities within the park may require a fee. These might include guided tours, adventure sports, or equipment rentals.
What to Bring for Your Visit to Tazı Canyon
Pack light but don't forget essentials like hiking shoes, sunscreen, water, and a camera to capture the unforgettable sights.
Check out the comprehensive Turkey Packing Guide for more details.
Safety Tips for Visiting Tazı Kanyonu
Your safety should be paramount. Always heed local advice, especially when embarking on adventure tourism activities in Tazı Kanyonu. It's always wise to have local emergency numbers at hand.
Nearby Attractions to Tazı Canyon
Beyond the charms of Tazı Kanyonu, you can explore other cultural and natural wonders in the Antalya region. The Green Lake Antalya and Goynuk Canyon are pristine retreats for nature lovers.
The Saklikent Gorge and Kayaköy, a ghost town with a riveting history, are definitely worth a detour. For those seeking to immerse themselves in ancient history, a visit to the Lycian Rock Tombs in Fethiye would be an unforgettable experience.
Conclusion
Tazı Kanyonu is an underappreciated gem that offers a combination of stunning natural beauty, rich history, and thrilling adventures.
From witnessing the Eagles Canyon and Wisdom Valley to partaking in rafting and ziplining experiences, the canyon presents a diverse offering for every type of traveler.
So, whether you are an adventure enthusiast seeking a memorable rafting experience, a nature lover eager to bask in the serenity of the Green Canyon Turkey, or a history buff ready to explore the Selge Ancient City, Tazı Kanyonu has something for you.
It's more than just a location; it's a rendezvous with nature and history, an escape from the ordinary, and a foray into the extraordinary.
A visit to Tazı Kanyonu isn't just a trip, it's a journey—one that captures your senses, captivates your mind, and creates memories that you'll cherish forever.
So, pack your bags, prep your itineraries, and get ready to embark on an unforgettable Turkish escapade to Tazı Kanyonu.
In the immortal words of the famous Turkish poet, Yahya Kemal Beyatli: "Travel to Antalya, for there lies the real paradise." Embark on your adventure today and remember, as always, gezgin—travel, explore, and discover!
Tazı Canyon, also known as Eagles Canyon, is located in the town of Beşkonak, between Serik and Manavgat. This picturesque site is approximately 104 km from the city of Antalya, Turkey.
From Antalya, take a bus to Manavgat, then transfer to a bus or minibus (Dolmuş) to Köprülü Canyon National Park, where Tazı Canyon is located. If driving, start in Antalya, head towards Gaziler, cross a bridge, continue for about 10 km, then turn at the Tazı Canyon sign.