Fethiye's Romantic Escapades: An Ultimate Guide for Lovebirds
Nestled along the turquoise coast of the Mediterranean, Fethiye is a stunning destination for couples seeking romance and adventure. 
With its beautiful weather, breathtaking landscapes, and rich history, Fethiye offers a diverse range of experiences that are sure to make your time together truly unforgettable. 
In this article, we will explore a variety of romantic activities and experiences that will deepen your bond and create lasting memories.
Best romantic things to do in Fethiye
Sail into the Sunset: Private Boat Tours
Fethiye offers a variety of boat tours to explore its stunning coastline, from daily group excursions to customizable private tours.
These tours often include visits to secluded bays, pristine beaches, and fascinating historical sites.
Opting for a private boat tour allows couples to enjoy a more intimate experience, away from the crowds.
With a dedicated crew at your service, you can tailor your itinerary to suit your preferences and focus on creating unforgettable moments together.
Fethiye's coastline boasts a myriad of hidden bays and beaches that are best explored by boat.
Discover spots like Çalış Beach, Ölüdeniz Beach, and the others best beaches in Fethiye, each offering unique charm and beauty.
As the sun sets over the Mediterranean, the sky turns into a canvas of warm hues, creating the perfect backdrop for a romantic evening. Enjoy this magical moment together while sailing through the serene waters.
Relax and Reconnect: Couple's Spa Day
Taking time to unwind and practice self-care is crucial for maintaining a healthy relationship.
A couple's spa day provides the opportunity to escape the hustle and bustle, focus on each other, and strengthen your bond.
Fethiye boasts an array of luxurious spas, offering a wide range of services, from rejuvenating massages and facials to holistic treatments designed to balance mind, body, and spirit.
Indulge in a traditional Turkish bath, or hammam, where you'll be treated to a relaxing steam bath, followed by an invigorating body scrub and soothing massage.
This unique experience is both romantic and restorative, leaving you and your partner feeling refreshed and revitalized.
A shared spa day allows you to reconnect with your partner, nurturing your relationship while simultaneously caring for your well-being. These shared experiences create lasting memories and promote a deeper sense of intimacy.
Discover History Hand-in-Hand: Visiting Ancient Ruins
The region surrounding Fethiye is steeped in history, with numerous ancient ruins and archaeological sites to explore.
These sites offer a glimpse into the past, providing a fascinating backdrop for romantic adventures.
Take a journey through history by visiting the ghost village of Kayaköy, the ancient city of Tlos, and the UNESCO World Heritage Site of Letoon. Each site offers unique insights into the civilizations that once flourished in the region.
Exploring new places and experiencing different cultures together can strengthen your bond and create lasting memories.
Visiting these ancient sites allows you to immerse yourselves in the region's rich history while enjoying each other's company.
As you wander through the ruins hand-in-hand, you'll not only be learning about ancient civilizations, but also creating cherished memories that will last a lifetime.
These shared experiences are invaluable in fostering a deeper connection between you and your partner.
Romantic Day in Butterfly Valley 
Butterfly Valley, nestled between steep cliffs and accessible only by boat, is a hidden gem in the Fethiye region.
This stunning, secluded valley is home to a variety of butterfly species and boasts a pristine beach surrounded by lush, unspoiled nature. 
The tranquility and beauty of this idyllic location make it a must-visit destination for couples seeking a romantic escape.
The beauty of Butterfly Valley lies in its untouched natural surroundings, which include crystal-clear waters, a pristine sandy beach, and lush vegetation. 
The valley's dramatic cliffs create an air of mystery and seclusion, while the vibrant colors of the butterflies flitting through the air add an enchanting touch to the landscape.
The serene atmosphere and spectacular scenery make it a perfect spot for couples to relax, connect, and create memories together.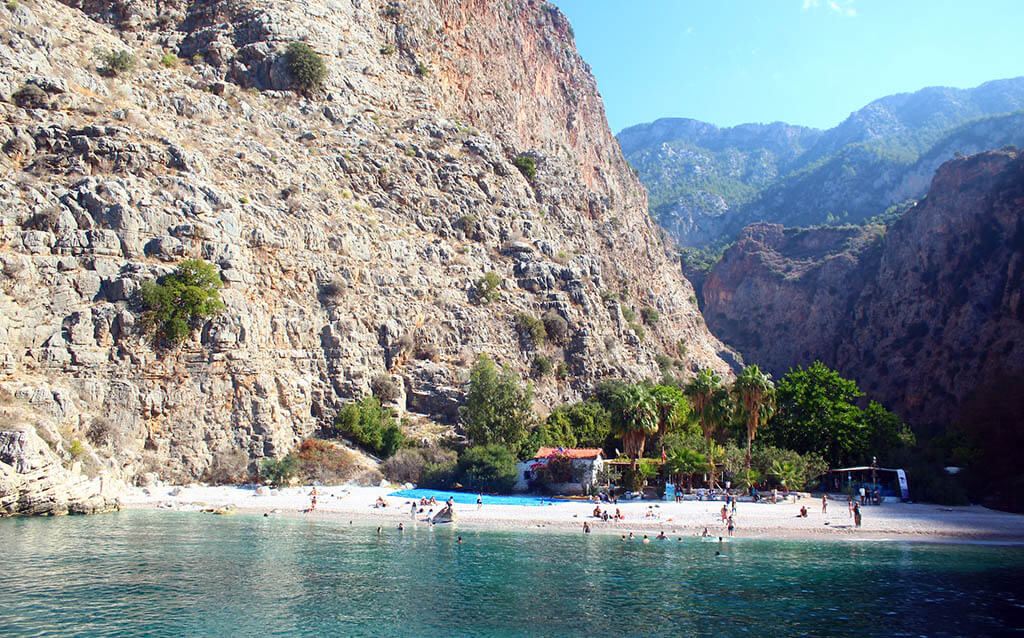 One of the main attractions of Butterfly Valley is its namesake: the diverse population of butterflies that call this valley home. 
Keep an eye out for the elusive Jersey Tiger butterfly, which is known for its striking black and orange wings.
In addition to the butterflies, the valley also hosts a variety of other wildlife and plant species, offering ample opportunities for nature lovers to explore and appreciate the area's rich biodiversity.
A visit to Butterfly Valley is not just about its stunning natural beauty, but also the opportunity to create lasting memories with your partner.
Dinner and Drinks at the Top of Babadağ
Sharing meals together is a vital aspect of nurturing relationships, providing opportunities for bonding, communication, and creating lasting memories.
Enjoying a meal in a unique and romantic setting can further enhance the experience.
Treat yourselves to a memorable dinner at the Babadag 1700 Grill & Bar, which offers breathtaking panoramic views of the Fethiye region.
The mountaintop restaurant serves delicious cuisine while providing the perfect atmosphere for a romantic evening.
As you dine, savor the spectacular views of the sun setting over the Mediterranean, casting a warm glow over the landscape below. 
This unforgettable experience will leave a lasting impression and serve as a reminder of your romantic getaway in Fethiye.
Unwind on Sovalye Island
Sovalye Island, a small, car-free island located in the Fethiye Gulf, is a hidden oasis known for its pristine beaches, crystal-clear waters, and fascinating historical sites. 
With its laid-back atmosphere and stunning natural beauty, Sovalye Island provides the perfect setting for couples seeking a peaceful and romantic retreat.
The island's serene environment, combined with its picturesque landscape and rich history, make it an ideal destination for couples looking to escape the crowds and enjoy a romantic getaway. 
The lack of cars on the island adds to its tranquil ambiance, allowing visitors to fully immerse themselves in the beauty and charm of Sovalye Island.
The island's natural beauty is characterized by its sparkling azure waters, idyllic beaches, and lush greenery. The coastline features numerous small coves and secluded bays, perfect for intimate beach picnics or refreshing swims in the crystal-clear water.
The island's Mediterranean climate, with warm summers and mild winters, allows couples to enjoy its stunning beauty year-round.
In addition to its natural and historical attractions, Sovalye Island offers a variety of activities for couples to enjoy. Take a leisurely swim or snorkel in the crystal-clear waters, discovering the vibrant marine life that inhabits the island's shores. 
For a more adventurous experience, rent a kayak or paddleboard and explore the island's coastline at your own pace. In the evenings, enjoy a romantic meal at one of the island's waterfront restaurants, savoring the delicious local cuisine as you watch the sunset over the water.
To reach Sovalye Island, visitors can take a short water taxi ride from Fethiye's harbor. The journey takes around 10-15 minutes and offers stunning views of Fethiye Bay along the way. As there are no accommodations on the island, plan to return to Fethiye or another nearby location at the end of the day.
A visit to Sovalye Island promises a unique and unforgettable experience for couples seeking a romantic escape. The island's serene atmosphere, breathtaking natural beauty, and fascinating historical sites create the perfect setting for a memorable day spent exploring, relaxing, and connecting with your partner. 
Conclusion
Fethiye, with its diverse and unforgettable experiences, is the perfect destination for couples looking to create lasting memories. 
From private boat tours exploring the stunning coastline to rejuvenating spa days, and from wandering through ancient ruins to enjoying intimate meals with breathtaking views, there is no shortage of romantic activities to enjoy.
We encourage you to prioritize quality time with your partner, exploring the beauty and romance of Fethiye together. 
As you embark on these unique adventures, you'll not only deepen your bond, but also create unforgettable memories that will last a lifetime. So, pack your bags and let the magic of Fethiye sweep you off your feet.